Esdaile '00 New Athletic Director at Boston Public Schools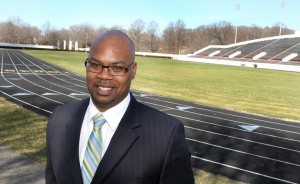 Avery Esdaile '00 started his new job as athletic director for Boston Public Schools on Monday, April 14. Before his recent transition, Esdaile spent 12 years in the Wellesley College Athletic Department.
Ken Still, the former athletic director for Boston Public Schools, retired in October, leaving the schools without an AD for much of the fall and the entire winter season. Esdaile, with a degree in sociology from Wesleyan and a master's of science in management of sports industries from the University of New Haven, says he is looking forward to being "in a position to hopefully down the line develop a program that infuses some learning and life lessons through athletics" because he hopes to help "kids that participate in athletics not only grow athletically but grow as the people that they are," according a Boston Globe article.
Esdaile will face challenges through the transition from college to high school including the huge shift in size; at Wellesley he had only one team in each sport but as AD for Boston Public Schools, he has multiple teams participating in each sport. One issue Esdaile is planning to tackle is "the lack of interest in certain sports in the city."
Less popular sports include hockey and swimming and Esdaile hopes to give students more opportunities to participate in these sports. Speaking about his plans, he states, "Right now, for me to come in and make changes would be foolish. The goal is to get through the year, take that breath, and then start to get ready for next year and look at what are some of things that we can do that make us more efficient or open the lines of communication or deal with anything that will just make what we do in this office here work at a higher level."