15 Elected Early Decision to Phi Beta Kappa


Fifteen Wesleyan students were elected to early decision membership in Phi Beta Kappa during an initiation ceremony Dec. 3.
To be elected, a student must have demonstrated curricular breadth by having met the General Education Expectations, and must have achieved a grade-point average of 93 and above. For students elected in the fall, it is an especially exacting selection process because admittance is based on a student's performance at Wesleyan only through their junior year. Also for this election, students must have completed all of their undergraduate work at Wesleyan.
In this group, everyone has a GPA of 94.50 and above.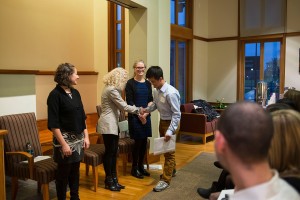 The students, all from the Class of 2015, include: Nathaniel Campagne; Alison Goldberg; Jessica Hanway; Naomi Hecht; Quinta Jurecic; Emma Kemler; Lewis Lo; Dana Louie; Caroline Mead; Janika Oza; Dilovan Serindag; Monica Sheridan; Nora Thompson; Sangsan Warakkagun and Brianne Wiemann.
"These new members' accomplishments during their years at Wesleyan should be a source of pride to themselves and to their families," said Associate Professor of Psychology Anna Shusterman, who serves as president of the Connecticut Gamma Chapter of Phi Beta Kappa.
Phi Beta Kappa, founded in 1776, is the oldest surviving Greek letter society in America. The emblem contains the three Greek letters "Phi-Beta-Kappa," which are the initials of the Greek motto, Philosophia Bio Kubernetes — "the love of wisdom is the guide of life."
Photos of the ceremony are below: (Photos by Dat Vu '15)