Hurteau Earns Cardinal Achievement Award for Planning Library Project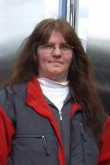 Linda Hurteau, library assistant, was recently presented with a Cardinal Achievement Award for her work in anticipation of moving the Art Library collections into Olin Library. Hurteau created a plan to make space for and integrate transferred books from Olin Library into the Science Library.
She planned the project, supervised student employees to do a major shift of the Science Library's monographic collection, and had the space allocated and ready when professional movers relocated the books. The planning work that Linda did resulted in significant savings to the library and the university. Hurteau also planned and initiated a project to create a separate oversize book area. The oversize shelves will help to preserve these materials by reducing the costs associated with rebinding books that are damaged by shelving them on edge or torqued when squeezed onto shelves of inadequate height or depth.
Lastly, Hurteau also undertook a project to integrate seven separate small collections into one when it became apparent that users were having difficulty locating individual items.
"Linda's proactive approach to cost-savings and dedication to customer service deserve recognition. She is always looking for ways to improve the Science Library and the services we offer," said Melissa Behney, science librarian.
This special honor comes with a $250 award and reflects the university's gratitude for those extra efforts. Award recipients are nominated by department chairs and supervisors.
Nominations can be made anytime throughout the year. For more information or to nominate a staff member for the award, visit the Cardinal Achievement Award website. Recipients will continue to be recognized in News @ Wesleyan. See past Cardinal Achievement Award recipients here.