Jenkins Reviews Book on Famed Artist Lempad in Jakarta Post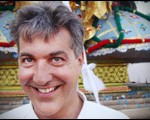 Ron Jenkins '64, professor of theater, published a review of Lempad of Bali: The Illuminating Line in the Jan. 19 edition of the Jakarta Post. Jenkins had high praise for the book, which contains pictures of the works of Balinese architect and artist I Gusti Nyoman Lempad.
Jenkins wrote, "the aptly titled volume illuminates not only the exquisite lines of Lempad's artwork, but also the intangible elements of Balinese identity that those lines represent."
In addition to describing some of the noted works, Jenkins also commended the depth and insightfulness of the essays that accompanied each work. The essays were written by a team of scholars lead by the acclaimed Indonesian cultural researcher and author Bruce Carpenter.
Read the full review here.