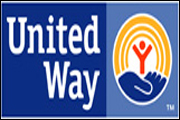 Wesleyan employees increased both giving and participation in this year's campaign to support the Middlesex United Way, raising more than $111,000 for the local community.
More than 400 Wesleyan staff and faculty members gave this year, about a 36 percent participation rate, according to Campaign Coordinator Cathy Lechowicz, director of the Center for Community Partnerships.
An online auction also raised more than $600, and some lucky employees won gift certificates to local restaurants—including Haveli India Restaurant, Esca Restaurant, Luce, Nardelli's, Mondo, and Sweet Harmony Café & Bakery—a night at the Inn at Middletown, a golf foursome at the Yale Golf Course (donated by the company Ricoh), a Waring Bar Blender (donated by EBP Supply Solutions), and a consultation with Amy Bloom, director of the Shapiro Center for Creative Writing.
"The United Way campaign is a huge undertaking and it would not be possible without the support and efforts by representatives from the various departments on campus – there are over 40 people who assist in handing out and collecting pledge forms," said Lechowicz. "This year's campaign chair, [Associate Professor of Biology and Neuroscience and Behavior] Gloster Aaron, provided great insight as to why supporting the United Way campaign is important and I'm grateful for the time he contributed."
The Middlesex United Way works in four key focus areas: education, income, health and housing. Donors can specify an area, designate a specific organization or make a general contribution. According to Lechowicz, the vast majority of Wesleyan donors made a general contribution. This year there were several designations to Amazing Grace, the local food pantry run by St. Vincents Middletown.
The Middlesex United Way is also very active in the area of housing and supports the Ten Year Plan to End Homelessness, an ambitious and important initiative to develop affordable housing.
For more information on the Middlesex United Way's accomplishments this year in the local community, see this column written by Executive Director Kevin Wilhelm in The Middletown Press.