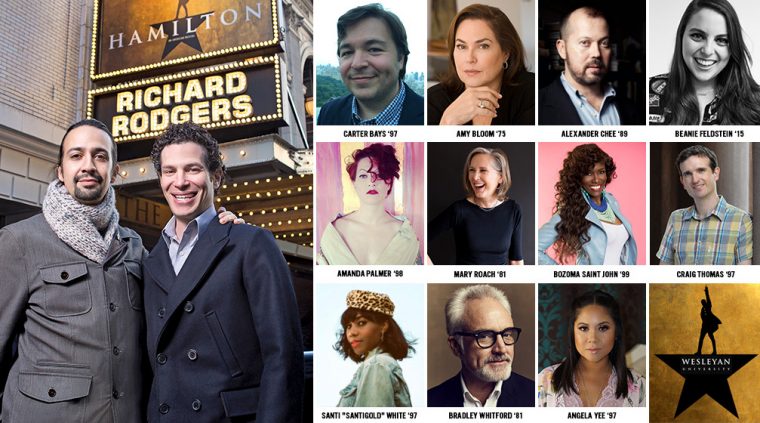 Wesleyan has awarded its prestigious Hamilton Prize for Creativity to three students whose creative written works best reflect the originality, artistry, and dynamism of Hamilton: An American Musical, created by Lin-Manuel Miranda '02, Hon. '15 and directed by Thomas Kail '99.
Anna Tjeltveit of William Allen High School in Allentown, Penn., was awarded the grand prize—a four-year, full-tuition scholarship to attend Wesleyan—for her one-act play titled "Five Steps." In addition, this year for the first time, Wesleyan awarded two honorable mentions along with $5,000 stipends. These went to Cole Goco of Arlington, Va., (H-B Woodlawn High School) for his web comic strip, "Billy the Pop," and to Benjamin Togut of New York, N.Y., (Columbia Grammar and Preparatory School) for his set of poems—"Arpeggios," "Pipe Dreams," "Frost," "Meditations," and "Verse." All the students will be members of Wesleyan's Class of 2023, beginning in the fall.
"Once again, we've been tremendously impressed by the imagination and boldness these students bring to their creative writing," said President Michael S. Roth. "We are pleased to recognize three exceptional works in different categories this year with the newly expanded Hamilton Prize."
The winning works were chosen from a pool of over 400 submissions this year. Faculty members reviewed entries, while an all-star selection committee of Wesleyan alumni in the arts, chaired by Miranda and Kail, judged finalists. Bios for all the committee members can be found here.
"What a joy it is to serve alongside this distinguished group of fellow alumni and get a glimpse at the next generation of creative minds," said Kail. "It's an honor to help these artists get their start at Wesleyan, as we all did."