Alejandro, Alumnae Collaborate on Choreography Project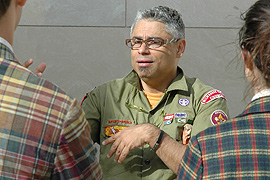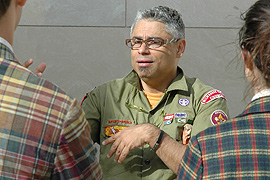 Pedro Alejandro, associate professor of dance, Brittany Delany '09 and Sarah Ashkin '11 are collaborating on a new choreography project in New Mexico.
The project titled "Chancy Dancing" will premier at 8 p.m. April 11 at the Railyard Performance Center in Santa Fe. Marcela Oteiza, assistant professor of theater, is developing the visual design of the work.
The first half of the performance features Ashkin and other local choreographers' most recent works spanning a spectrum of modern dance, dance theater and improvisational systems.
The second half showcases the work of Connecticut-based company in-residence Pedro Alejandro Dance and Dancers (PADD). PADD, formed in 1987 in New York City by Alejandro, exists as a project-based pick up international performance company. For his week-long residency in Santa Fe, Alejandro will guide senior company members and guest Santa Fe dancers through the rehearsal and performance process of his latest endeavor, Aleatory Remains.
"Aleatory Remains is a choreographic examination of how 'chance procedures' challenge traditional notions of ownership and commercialization of dances as art objects and commodities," Alejandro explained.
Aleatory Remains will be constructed from pre-prepared instructions, drawn from a satchel in front of the audience. The instructions will include the type of gestures/movements, their sequence/order, the number of repetitions, and instructions on spatial configurations or directions.
"The challenge for the dancers in this project is to engage with making art in the moment by risking the impulse to exercise control over the materials.  When surrendering preconceived impulses, the process of chance procedure allows for a profound co-created, shared experience of dance-making and dance-spectating," he said.
Pedro Alejandro Dance and Dancers' Santa Fe residency and performance is supported by Wesleyan University and Ground Series, a curatorial platform founded by Delany and Ashkin. Programming hybrid performances, openings, concerts, lectures, and film screening in the Bay Area and Northern New Mexico, Ground Series creates a space where art and community find common ground. Ground Series events prioritizes communal exchange of skills, resources, and experiences in order to strengthen and unite artist and neighbor.
"It's been so incredible to keep in touch with alumni from the Dance Department and to continue work and a creative process with Professor Pedro Alejandro as part of his dance company," Delany said.
For more information visit the Chancy Dancing invitation on Facebook.