Wesleyan Hosting New England Intercollegiate Geological Conference Oct. 9-11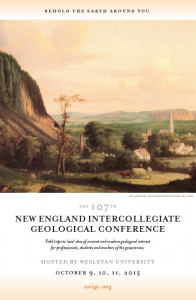 <div class="at-above-post addthis_tool" data-url="http://newsletter.blogs.wesleyan.edu/2015/08/26/neigc/"></div>Wesleyan's Department of Earth and Environmental Sciences is hosting the 107th New England Intercollegiate Geological Conference Oct. 9-11 on campus and in the field. Several Wesleyan faculty, students and alumni are participating in the conference, which includes trips to local sites of ancient and modern geological interest. Participants will have the opportunity to examine tectonic slivers of oceanic terrain near New Haven; explore groundwater flow patterns and geologic deposits in Bloomfield; observe a gravel bed channel affected by a dam removal on the Naugatuck River in Waterbury and more. <!-- AddThis Advanced Settings above via filter on get_the_excerpt --><!-- AddThis Advanced Settings below via filter on get_the_excerpt --><!-- AddThis Advanced Settings generic via filter on get_the_excerpt --><!-- AddThis Share Buttons above via filter on get_the_excerpt --><!-- AddThis Share Buttons below via filter on get_the_excerpt --><div class="at-below-post addthis_tool" data-url="http://newsletter.blogs.wesleyan.edu/2015/08/26/neigc/"></div><!-- AddThis Share Buttons generic via filter on get_the_excerpt -->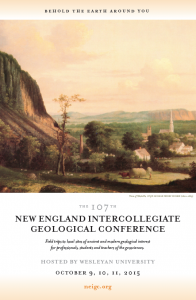 Wesleyan's Department of Earth and Environmental Sciences is hosting the 107th New England Intercollegiate Geological Conference Oct. 9-11 on campus and in the field. Several Wesleyan faculty, students and alumni are participating in the conference, which includes trips to local sites of ancient and modern geological interest.
Participants will have the opportunity to examine tectonic slivers of oceanic terrain near New Haven; explore groundwater flow patterns and geologic deposits in Bloomfield; observe a gravel bed channel affected by a dam removal on the Naugatuck River in Waterbury; learn about the bedrock geology in Collinsville; examine common continental facies that comprise the Jurassic Portland Formation in the Hartford Basin at multiple locations; observe mineral forming geoenvironments near Trumbull; study a cranberry bog restoration in Massachusetts, and much more.
In addition, Wesleyan's Johan Varekamp, the Harold T. Stearns Professor of Earth Science, and Ellen Thomas, University Professor in the College of Integrative Sciences, research professor of earth and environmental sciences, will lead a tour of coastal marshes near Guilford and Branford. They will teach the participants how to distinguish low marsh, middle marsh and high marsh, and examine the sediment of the Jarvis Creek marsh.
Tim Ku, associate professor of earth and environmental sciences, Peter Le Tourneau MA '85, and Nicholas McDonald MA '75 will lead an exploration of fossils along the footwall margin of an active riff. The long-term evolution of the stratigraphic record, influence of climate and tectonics, and implications for earth resources will be discussed.
A full, detailed description of the field trips is online.
The conference is co-organized by Martha Gilmore, the George I. Seney Professor of Geology, chair and professor of earth and environmental sciences, and Phil Resor, associate professor of earth and environmental sciences. Alumni instructors also include Larry Feldman '69 and Robert Altamura MA '84.
This will be the fifth time Wesleyan has hosted the conference, most recently in 1958.  The conference includes a banquet, hosted at Wesleyan, on Oct. 10.
"Wesleyan's location in central Connecticut makes it a perfect basecamp to host the NEIGC, and we're excited to have geologists, geoscientists, educators and students from all over New England convene here for this event," Gilmore said.
Participants may receive a Certificate of Attendance for educators and professional geologists after the conference. For more information or to register, fill out the Registration Form.