Courant, Monitor Feature Wesleyan's 'Posse' of Veterans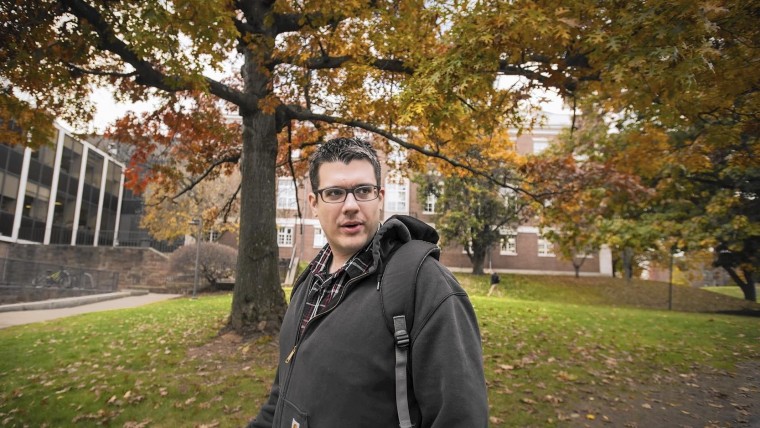 Just ahead of Veteran's Day, The Hartford Courant has published an in-depth feature on Wesleyan's Posse veteran scholars. According to the story:
For more than two decades, Posse has run a program on the principle that high school students from diverse backgrounds will have a better chance of becoming successful students and leaders on campus if they come in a tight-knit group and with a network that helps to support them.

Two years ago, Posse expanded that concept to teams of veterans, starting at Vassar College. Wesleyan had its first posse of 10 veterans enter last year, and a second posse of 10 more this fall and will add 20 more over the next two years. Next year, Dartmouth College plans to become part of the program. As part of the arrangement, the schools agree to pick up whatever costs the federal veterans programs don't cover.
In 2013, Wesleyan decided to partner with Posse because the university was having a hard time attracting veterans on its own.
"Wesleyan is known as a school pretty much on the left …" President Michael Roth told the Courant, "but a school that's only on the left and seems hostile to anything that's not stereotypically on the left is a school that would be weak, I think. It would be an echo chamber, rather than a place of real conversation and debate.
"I thought it would be good for Wesleyan because these young men and women — their life experience has been different from most of our students."
The article leads with Army veteran Ryan "Doc" Polk '19, who admits he was elated but "terrified" to start at Wesleyan.
But Polk, who is 32, says his experience in a "posse" of 10 veterans at Wesleyan has allayed his reservations. He has found the students open and easy to talk to, and he's taking every class he can cram into his schedule. His career plan to drive a truck has given way to plans to become a writer.
Polk described his experience at Wesleyan:
When he got into Wesleyan, he said, beyond his questions about the cultural atmosphere on campus, his first thought was, "OK, I have a future. That was my reaction. I have a future now."

Polk didn't know how he would relate to younger students fresh out of high school, but he said he's been pleasantly surprised. "They actually want to know what's happening," Polk said. "They don't try and understand it, they just want to listen and they are like, 'wow, that's different.'"

Polk left the Army in 2014 after he was wounded in Afghanistan. He was in and out of the hospital for eight months with various medical issues. His marriage dissolved. "You'll hear this story from a lot of vets. You're just not the same afterward, so it's kind of like learning who you are."

It's part of the reason "Doc" doesn't go by his old name — Ryan — anymore. "I don't even know that guy anymore," he said.

From that point of view, Polk said he is very much like the freshmen around him. "They are trying to figure out who they are, so even though I'm 120 years older, I can still relate to where they are at."
The article also describes the role of faculty mentors for the Posse veteran scholars.
As part of the Posse program, Wesleyan faculty mentors provide close advising to Posse students, meeting with them one-on-one and in groups. In addition, Posse Foundation staff visit the campus several times a year.

Andrew Szegedy-Maszak, a professor of Greek and Classical Studies and a faculty mentor, said that one of the biggest issues veterans face is the "impostor syndrome," which was discussed in the '70s and '80s.

Many of the veterans had unsuccessful high school careers or attended community colleges, where they were "racking up A's," Szegedy-Maszak said.

But the work at Wesleyan is much harder, and they may be finding it "a shock to the system."

"There's still this anxiety about whether they should really be here," he said. "Whether they can really cut it here, and they absolutely can."

While having a posse of older students with shared military experience is helpful, Antonio Farias, Wesleyan's vice president for equity and inclusion, said the students are expected to get out of their "comfort zones," become leaders on campus and participate in extracurricular activities.
The Christian Science Monitor also interviewed Polk for a story about the challenges veterans face when entering college after military service, and programs designed to help them.
Despite his anxiety about being at Wesleyan, he said, "Everyone I've talked to has been very open, not just asking questions because it's fun, but because they just want the raw information of what happened." In the process he's found that the first time he's been able to talk openly about his experiences in combat, "It's been with 18-year-olds."
President Michael Roth told the Monitor about why Wesleyan brought the Posse veterans program to campus.
"We've been engaged in a series of wars that haven't even been labeled wars, and they demand an enormous sacrifice from a very small percentage of the population, and the rest of us depend on that sacrifice whether we like it or not, but never really have to talk to somebody who patrolled the streets of Iraq or the mountains of Afghanistan," he said.

"I thought this was a great thing – we'd both help deserving student veterans with financial assistance, and it would also be good for the campus because they would have a very different life experience from most of our other students," he adds. "They're a little bit older, more mature, and they are intensely curious about the world and about themselves. I think they want to make the most of their education, and they don't take it for granted. There's a kind of intensity to that that's just great."