Photographs by Albert MALS '94 Exhibited in Olin Library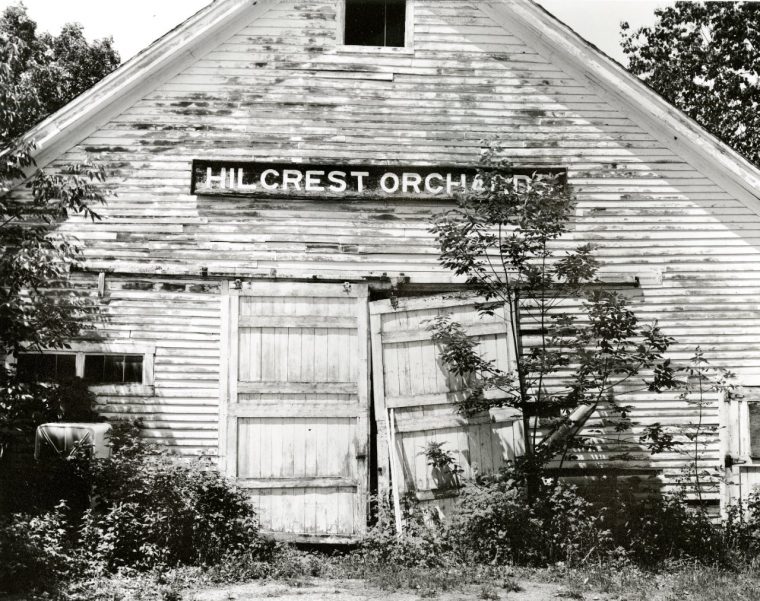 Nancy Ottmann Albert's (MALS '94) evocative photographs of vanishing New England structures and landscapes will be featured in "Documents in Black and White," a new exhibition opening in Olin Library on Oct. 5, 2016. The show is being presented in conjunction with the formal announcement of Albert's gift of her papers to the library's Special Collections & Archives (SC&A).
Albert will speak about her work at 7 p.m. Oct. 28 in the library's Develin Room.
Selected by the artist, the works span the 30 years she spent documenting New England's built environment. Inspired by Walker Evans and the 1930s Farm Security Administration photographers, she began to photograph textile mills and industrial sites throughout New England in 1981. Shooting black and white film in a medium format camera, she returned over the years to record the buildings' decline and disappearance.
Further exploration led her to seek out other endangered structures and landscapes. These include mental institutions emptied by changing philosophies of treatment and a commissioned study of Long River Village, Middletown's oldest housing project, prior to its demolition.
The exhibition also contains images of roadside and urban vernacular architecture, barns and abandoned homesteads, filling stations, and drive-in theaters. All of the work, which includes gelatin silver photographs, was printed by the artist.
In 2014, Albert donated her papers to SC&A. Her papers include images taken in New England, France, Cuba, Portugal, Spain, London, Italy, Eastern Europe, Vienna, Barcelona, Bosnia, Slovenia, Croatia and Berlin, along with her research notes. The papers are now freely available for research and are described in an online finding aid. The gift will be formally acknowledged prior to her Oct 28. talk.
"Documents in Black and White" will be on view from Oct. 5 through Dec. 16, 2016, in the SC&A exhibition cases on the first floor of Olin Library during normal library hours. For more information, call 860-685-3863 or e-mail sca@wesleyan.edu.