Johnston, Eiko Exhibit A Body in Fukushima in Manhattan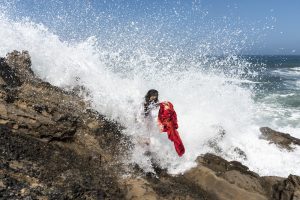 A Body in Fukushima, the collaborative work of Wesleyan artist-in-residence Eiko Otake P'07, '10 and Professor of History and East Asian Studies William Johnston, will be on view at the Cathedral of St, John the Divine in Upper Manhattan as part of a larger exhibition The Christa Project: Manifesting Divine Bodies from Oct. 6 through March 12. Otake, who serves as an artist-in-residence at the Cathedral and a co-curator with Wesleyan senior Hannah Eisner '17 for this project, will offer a short performance for the opening reception, which is open to the public. The exhibition includes works by many notable artists such as Kiki Smith, Kara Walker and Meredith Bergmann '76.
The project offers a response to and a wider revisiting of the 1984 exhibit of sculptor Edwina Sandys's Christa, a conceptualizing of the crucified Christ in female form, which sparked considerable outrage at the time. In a statement introducing this re-exhibition of the sculpture, now alongside works of 21 contemporary artists, the project directors note: "Christa's essential statement …remains vital to our world today: people are hungry to see themselves and each other fully represented in society, especially in its most powerful and iconic institutions.
Otake and Johnston's collaboration, A Body in Fukushima, explores environmental disaster, human failure, and loss through Johnston's photographs of Otake's presence in Fukushima, the site of the 2011 earthquake, tsumanmi and nuclear meltdowns. The large area of Fukushima remains uninhabitable to this day. Prior to this artistic collaboration with their three visits to Fukushima in 2014 and this summer, the two have co-taught courses on the atomic bombings and mountaintop removal mining.
In artists' statements the two note the importance of a physical presence and bearing witness. Otake says, "By placing my body in these places, I thought of the generations of people who used to live there. Now desolate, only time and wind continue to move."
Johnston, also, speaks to the historic context of the place: "By witnessing events and places, we actually change them and ourselves in ways that may not always be apparent but are important. Through photographing Eiko in these places in Fukushima, we are witnessing not only her and the places themselves, but the people whose lives crossed with those places."