Gottschalk Writes on the Sufis and Why They Threaten ISIS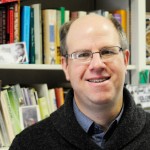 Professor of Religion Peter Gottschalk recently authored an article, "Who are the Sufis and why does ISIS see them as threatening," which appeared on Raw Story and The Conversation.
The Sufis, who have been the target of violent attacks in Pakistan in recent years, practice austerity "stemming from a sincere religious devotion that compelled the Sufi into a close, personal relationship with God, modeled on aspects of the Prophet Muhammad's life. This often involved a more inward, contemplative focus than many other forms of Islamic practice." And, according to Gottschalk, though "many Muslims and non-Muslims around the globe celebrate Sufi saints and gather together for worship in their shrines," these practices "do not conform to the Islamic ideologies of intolerant revivalist groups such as the Islamic State."
Gottschalk argues that there are two reasons why the Islamic State violently opposes Sufis:
First, some Sufis – as illustrated by Rabia, the Sufi from Basra – deliberately flout the Islamic conventions of their peers, which causes many in their communities to condemn their unorthodox views and practices.

Second, many Muslims, not just militants, consider shrine devotion as superstitious and idolatrous. The popularity among Muslims and non-Muslims of tomb veneration alarms many conservative Muslims.

When a Sufi tomb grows in reputation for its miraculous powers, then an increasing number of people begin to frequent it to seek blessings. The tombs often become a gathering place for Hindus, Christians, Sikhs and people from other faiths.

Special songs of praise – "qawwali" – are sung at these shrines that express Islamic values using the imagery of love and devotion.

However, Islamist groups such as the Taliban reject shrine worship as well as dancing and singing as un-Islamic (hence their assassination of the world-famous qawwali singer Amjad Sabri). In their view, prayers to Sufis are idolatrous.
Gottschalk also is professor of science in society, and director of the Office of Faculty Career Development.