She Makes Comics: Award-Winning Film by Stotter '13, Meaney '07 Available on Netflix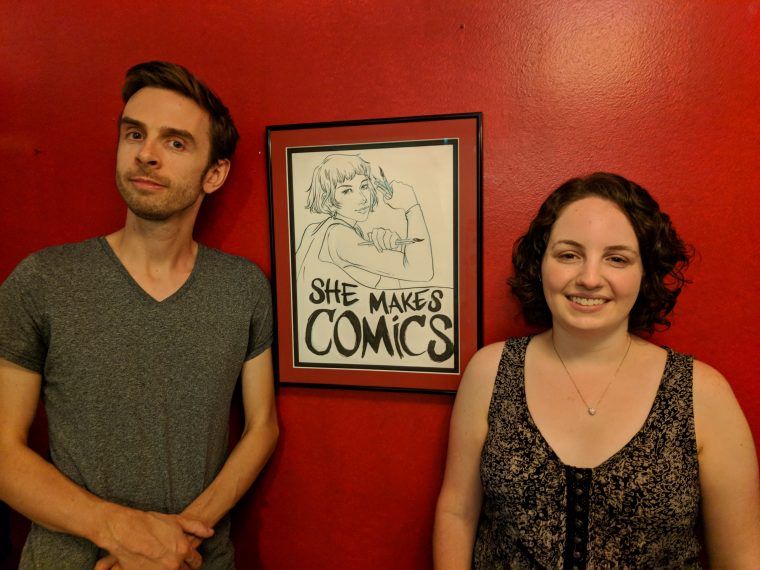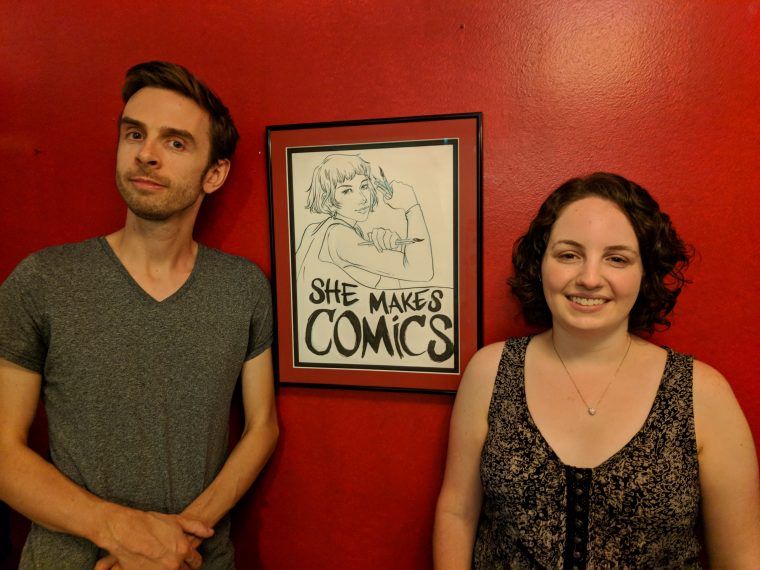 She Makes Comics, a documentary directed by Marisa Stotter '13, and produced by Patrick Meaney '07 and Stotter, won Best Documentary at the 2015 San Diego Comic-Con International Film Festival, and was released on Netflix on Oct. 15.  Also available on iTunes and Amazon Prime, the film tells the story of the women—artists, writers, executives, as well as ardent fans—in the comic book industry. The documentary has played at film festivals around the world since its release in December 2014.
Both a thoroughly researched history—featuring luminaries such as Karen Green, the comic librarian at Columbia University, as well as women who wrote and drew comics in the 1950s and '60s—and a lively story for a general-audience, She Makes Comics is a collaboration between two Wesleyan alumni, one a film major and one an English major—whose years as undergraduates had no overlap.
It was when Meaney, the film major, returned to campus in 2012 to screen his documentary on comic-book artist Grant Morrison that he and Stotter began a conversation, which would evolve into joint ventures. Stotter, a comic book aficionado since her preteen days of following her older brother into Magic card game tournaments, ("I'd lose early and wander around the comic book shop, reading") recalls meeting Meaney: "I could see that we had a lot in common."
After her graduation, she took a job at a production company and also assisted Meaney on several films. When he asked if there were any topics in particular that she'd want to explore, Stotter said yes: the history of women in comics. Both a relevant and timely topic, this gender focus would address "an ongoing cultural conversation about whether women felt comfortable in the comic book world," Stotter explains. The duo also wanted to celebrate the contributions of "so many women glossed over by history."
This film would also allow them to build on Meaney's rich network—including Sequart, an organization promoting the serious study of comic books—which he had developed through previous projects. Those connections gave this work the credibility needed to gain access to the most influential women of the genre. "It was exciting to talk to so many people who have helped make books that I loved," says Meaney. "I don't know that I'd be making movies if it weren't for reading Vertigo books that Karen Berger championed, or the X-Men stories that Ann Nocenti and Louise Simonson helped create." These are just a few of the women in Stotter's lens who reflect on their work and its impact.
"Historically, there has always a place for women in the comic book world, even in the early days of the medium," says Stotter. "And research has shown that, in the 1950s, women were the majority of comic book readership. But this fact was lost over time."
Both Stotter and Meaney agree that their working styles and understanding of what they wanted to convey were entirely in synch. Their greatest challenge, says Meaney, "was figuring out how to shape so much history, and so many different peoples' stories, into a film that felt like a unified journey—funny and dramatic and emotional and exciting."
For that work, they drew on their Wesleyan film background, a department in which Stotter had taken a number of classes, as well. "So much of the Wesleyan film program is based on analyzing and dissecting movies," said Meaney, "And I think, having spent so much time understanding the principles of film storytelling made our work easier to do. So, Marisa and I would spend a lot of time talking about how to shape the material into a story.
Judging from viewer's reactions to the film, they were on target: "We screened the film at a comic store, and the owner said that after seeing the film, he's starting a women readers' group at the store," says Meaney. "He's now trying to make the store female-friendly, because he sees the audience that is out there. It's fun to be a part of this changing and expanding comics culture."
Stotter concurs: "What I most love is when art teachers and educators tell us that they show She Makes Comics to encourage their female students, who may be incredibly talented but feel uncertain about choosing art as a career and maybe don't know that this is an option for them.
"It's really wonderful to know that this documentary might be helping the next generation of incredibly talented female writers and artists hone their craft. It's incredibly humbling and I don't tire of that."
Adds Meaney: "I think it's a great example of a movie that addresses some very serious and important social issues through the lens of pop culture, and that's what Wesleyan is all about. The goal of the movie is to inspire people and get people out there to create and not be afraid to do what they love.
See the trailer and follow the film on Twitter: @shemakescomics.
Note: Meaney has completed his first narrative feature as director, House of Demons, a psychedelic horror film, which will be out early next year. "I worked with several Wesleyan people on the crew," says Meaney, "and it's definitely inspired by a lot of the more out there comics that I've read over the years." He will screen it on campus Sunday, Nov. 19, at 4 p.m.