Strong '18 Presents Research at Notre Dame Human Development Conference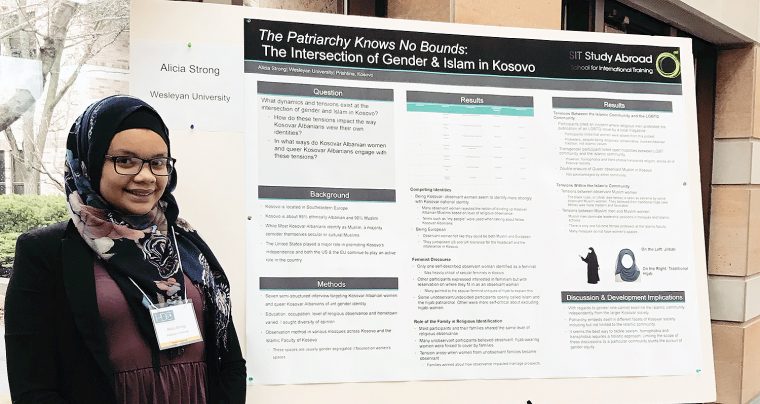 Alicia Strong '18, a government and religion double major, was invited to present her undergraduate research at the prestigious Human Development Conference at the University of Notre Dame, held February 23–24. The annual student-led conference, sponsored by Notre Dame's Kellogg Institute for International Studies, is an opportunity for students from many academic disciplines to share their development-focused research and to network with other student researchers from across the country and the world.
Strong was one of about 50 students to present at the conference, and one of only 18 to receive a competitive grant from the School for International Training to attend. Strong conducted an independent research project in spring 2017 on the SIT study abroad program "Serbia, Bosnia, and Kosovo: Peace and Conflict Studies in the Balkans."
Strong's research project is titled, "The Patriarchy Knows No Bounds: The Intersection of Gender & Islam in Kosovo."
"I have been interested in Muslim identity in Kosovo for quite some time," Strong said. "It has always seemed very unique because Albanians are indigenous European Muslims. As [part of] a newly independent country, Kosovar Albanians are continuing to negotiate and carve out their identity, especially its orientation to the western world. I noticed a lot of this discourse occurring at the intersection of gender and Islam and it sparked my interest."
Strong said her research is supporting her senior thesis, which focuses on the role geopolitics plays in Kosovar Albanian Muslim identity.