East Asian Studies' Aalgaard Aims to Amplify Voices That Challenge, Reshape Our Own Stances upon the World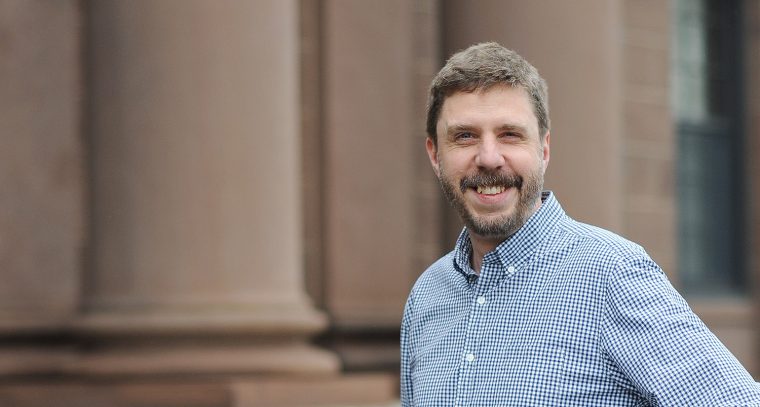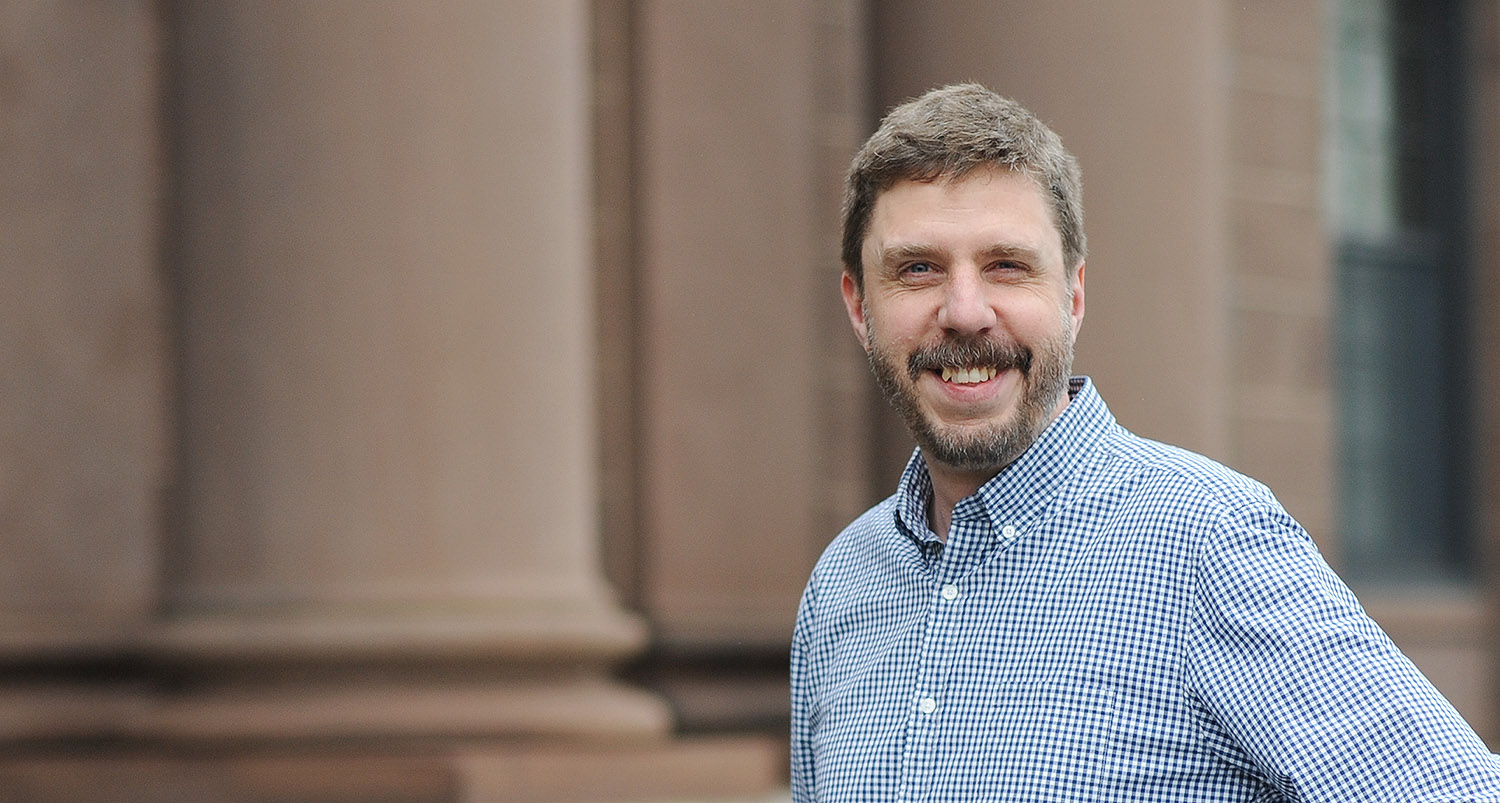 In this Q&A, we speak with Assistant Professor of East Asian Studies Scott Aalgaard. Originally a native of British Columbia, he joined Wesleyan after completing his doctorate at the University of Chicago. Affiliated with Wesleyan's College of East Asian Studies, his courses this year included Pop Music Revolutionaries, Japanese Women's Writing, and The Everyday in Modern Japan.
Q: Tell us a bit about your background.
A: I've been on the move for most of my life. I grew up in a small resource town on Vancouver Island, off the west coast of Canada; we had a sister city in northern Japan, and it was through that relationship that I got to visit Japan for the first time when I was 12. I was just a kid at the time, and in all honesty, it was more my mother's idea that I should go to Japan and see the world beyond our little town than it was mine. But being able to see and experience a different part of the world and different ways of life had a real impact on me, and made me ask different questions, both of myself, and of what I was experiencing. I guess now I'd call that a thirst for knowledge, but I didn't understand it in those terms at the time—I just felt that I needed to keep going back, keep talking to people, listening, learning.
I went back to Japan when I was 15, again when I graduated from high school, and that set the pattern—I've been living somewhere in between Canada, Japan, and now the United States for more than 30 years now. I've been fortunate to have a wide range of experiences in Japan—I've been a student, a farm worker, a local government employee; I've even worked in the music industry in Tokyo. I can't say that any of this has brought me closer to any answers, but I hope that I've been able to refine the questions. How do individuals in Japan and elsewhere make sense of their lives? Why? How does this get expressed in things like literature and music? What are some of the consequences of that? These are some of the questions that drive me, and Wesleyan is an ideal place to pursue them.
Q: What drew you to Wesleyan?
A: Wes is renowned for attracting sharp, inquisitive, critically-minded students, and being able to think through these questions with them is a real treat for me. Rather than trying to offer up some stock answer to the question of what "Japan" is all about, in other words, I see my role as helping students to formulate and articulate different sorts of questions, in a way that not only addresses Japan and its cultures and contexts, but students' own circumstances, contexts, and historical moments, as well.
Q: In your faculty bio, you say that your scholarship "aims to hear and amplify voices that can challenge and reshape our own stances upon the world." Can you talk about how/where/if you've seen that happening today? How do you emphasize that in your work?
A: I'm really interested in questions of collectivity, and in how different social actors and cultural producers deal with those questions. Collectivity is something that we all need, but when that gets reduced to exclusionary, reactionary forms of nationalism, or questions of nation-state power and prestige, then we've got a problem. People grapple with this question of collectivity in different ways.
Recently, for example, there's been an uptick in interest in the Cascadia Movement, which is a bioregionalist movement based in British Columbia and the northwestern American states that sees more cultural affinity north-to-south across the Canada-U.S. border on the basis of a shared concern for the environment than it does with seats of political and economic power in Ottawa and Washington. It's not exactly an independence movement, but it helps us to rethink commonsense notions of self-enclosed nation-states like Canada and the U.S., and to question the values that they're actually built on.
There are artists and individuals in Japan who work to throw the authority of the modern capitalist nation-state into question, too, and in very cool ways. One of the key figures in my research, for example, is a protest-folk singer from the early '70s in Japan. He's anti-war, but he doesn't sing in those terms—rather, his work aims to scramble the gendered ideals of masculinity and femininity that the state uses to aestheticize war in the first place. His critique is of the way in which national belonging can be militarized, and he's interested in showing the gendered ways in which that mechanism works.
Another of my key figures takes cliched, nationalist images associated with "Japan"—the Rising Sun flag, for example, or Mt. Fuji—and infects these with different, highly critical meaning, feeding them back into notions of Japanese "collectivity" in really intriguing, destabilizing ways. This can be a risky project, because the artist can appear to casual observers as a "rightist"—but the narrow line that he walks is precisely what makes his critique effective and intriguing.
Both of these artists are interested in rethinking what it means to be Japanese in this moment, and their fans tend to take up these questions, too—albeit with unpredictable outcomes. Telling their stories and learning from their critiques is something that's important to me, and something that I hope that students here in the U.S. can learn from as well.
There's a tendency to split the world into narratives of Left and Right, progressive and reactionary, and so on, especially in this moment that is so full of anxiety and precariousness for so many. But voices like these can help us to see that there's a lot of important and highly critical work being done in the big messy gray area in the middle. We just have to listen carefully to hear it.
Q: What are your hobbies? How do you spend free time?
A: Free time? Assistant professors at Wesleyan are supposed to have free time? Actually, my family and I enjoy exploring the outdoors. When the weather permits, we'll go for long walks along the river or in the forest, to unwind and de-stress. I'm also a music and radio junkie; I play guitar and sing a little, and usually have CBC Radio 2 streaming at home—it helps me stay connected with Canada and stay caught up with what's happening in the music world.
Q: Will you tell us something that nobody here knows about you (yet!)?
A: Let me give you two somethings: First, I'm a licensed pilot—I once had dreams of flying for Japan Airlines. Second, I once moonlighted as a busker on the streets in northern Japan. It didn't pay particularly well, unless you count the cans of beer that passersby would share with us, but I got to practice and learn some great Japanese songs and talk about music with some very cool people.
Q: When family visits you here—where do you take them? What's your favorite Connecticut hangout?
A: My brother and I are both history buffs, and when he came to visit us from Toronto, the first place that I took him was the cemetery in Durham. There are headstones there that predate the Civil War. Canada's First Nations have a rich and lengthy history on the West Coast, but the colonial past is not nearly as long there as it is here, and the sense of history in Durham was astounding for us. Whenever I go to a new place, the local cemetery is actually one of the first places I go to walk—it helps me learn about the place. It also helps me remember that I'm only occupying a single moment in a much longer history, and reminds me of the fact that I've got a responsibility to those who come after me.