Students Study Volcanic Soil, Map Historic Footprints in Hawai'i as Part of Their Senior Capstone Projects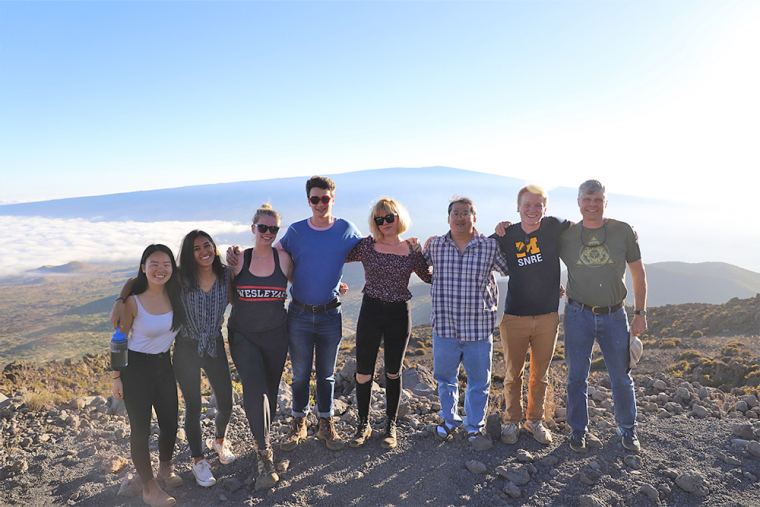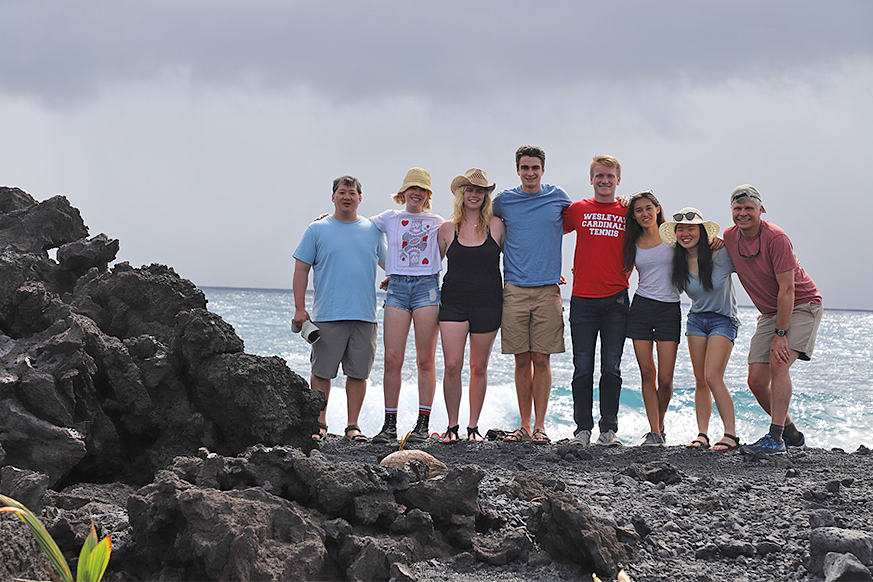 Six students majoring in earth and environmental sciences who said "aloha" to Hawai'i in January have completed their senior capstone project.
Seniors Jackie Buskop, John Sheffer, Kelly Lam, Sara Wallace-Lee, Ryan Nelson, and Celeste Smith traveled to the Big Island of Hawai'i Jan. 8-15 to conduct original, field-based research projects. They were accompanied by Associate Professors of Earth and Environmental Sciences Tim Ku and Phil Resor.
Prior to the trip, all six students enrolled in the fall semester course Senior Seminar E&ES 497, where they used the primary scientific literature to create hypothesis-driven research proposals. After collecting data in Hawai'i, the students enrolled in E&ES 498, where they analyzed and interpreted their data, and summarized their projects in journal article–style reports. On April 7, the students presented their results in short talks at the E&ES colloquium.
"Through this capstone sequence, students learn to develop and execute a research project from the initial idea through the planning, field collection, and data interpretation stages, and finally, how to synthesize this work into an illuminating presentation and written report," Ku said. "We hope this capstone experience helps students transition to independent, professional scientists."
Buskop, Sheffer, and Smith teamed up to work on a project titled "Inferences from 3D Modeling and Field Measurements of Human Footprints of the Ka'u Ash Desert (Kilauea, Hawai'i)."
Within Hawaiʻi National Park an area is teeming with human footprints fossilized in desert ash. For this project, the students hoped to use the footprints as a tool to describe the locomotion and stature of native Hawaiians.
The group investigated three different trackway sites to measure dimensions of prints to posit trackmakers' stature, velocity, and direction of travel. Using numerous photos and photogrammetry software, they created five 3D models to virtually preserve trackways from at least six individuals. From field measurements, they determined trackmakers were an average height of 5-foot 7-inches and were moving at a fast walk (~5.3 mph).
"These footprints will eventually disappear, as their location in lithified ash makes them vulnerable to erosion," Sheffer explained. "Thus, virtual preservation of Hawaiian trackways is a beneficial tool that can allow for further locomotion studies, provide accessibility to those that cannot reach the study site, and increase public awareness of these historical relics without danger of destruction."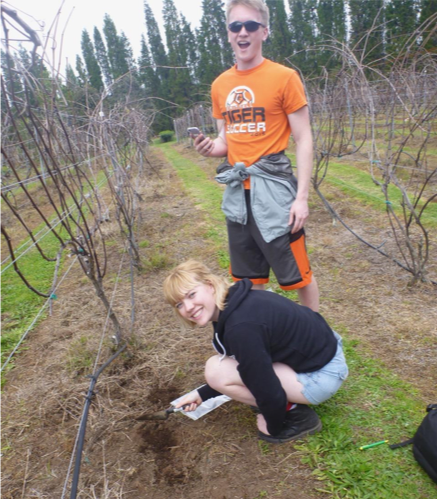 Kelly Lam, Sara Wallace-Lee, and Ryan Nelson completed a project titled, "Fingerprinting Hawaiian Wine and Tea Using δ34S (delta 34 S) Isotope."
For this study, the students traveled to Volcano Winery, located just two miles from the recently erupting Kīlauea Caldera in Volcano, Hawai'i, and collected samples of soil, leaves, lichen, wines, and teas.
Due to the active Kīlauea Caldera, this particular region is known for having high sulfur inputs, distinguishable by unique δ34S (delta 34 S) isotope values. Previously published research established that a unique δ34S "fingerprint" may be detected in coffee beans grown in Hawai'i, near Kīlauea. The students attempted to fingerprint wine and tea grown and produced at Volcano Winery by analyzing samples for δ34S. Generally, δ34S values of sampled soils, leaves, wines, and teas were higher than the expected Kīlauea δ34S fingerprint value. These higher values may be attributed to other environmental factors, and further research is necessary.
"It's an amazing privilege that we're able to all go to Hawai'i and carry out these research projects that we thought up ourselves," Lam said. "I felt empowered, and after completing the project more confident in my abilities as a researcher and a public speaker—skills that I will continue to carry with me throughout the rest of my life. I'm also really grateful for all the relationships fostered during the capstone experience."
In addition to working on their research projects, the students visited the newly cooled lava from the 2018 Kilauea eruption, a lava tube in the 1881 A.D. flow, a green sand beach, a coffee farm, a black sand beach with sea turtles, petroglyphs, Hawai'i Ocean & Science Technology Park, and the summit of Mauna Kea for stargazing.
The trip was supported by the Lawrence H. Davis '76 Fund.
Additional photos of the Hawai'i trip are below: