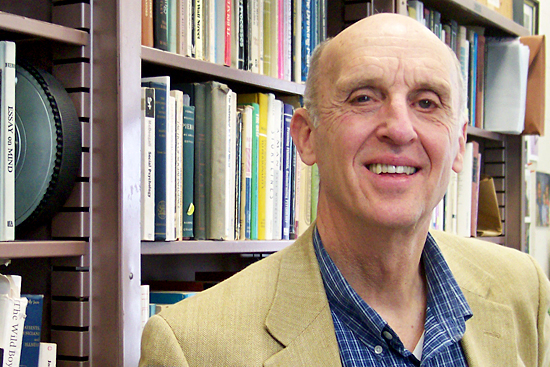 Psychology Professor Karl Scheibe will retire from Wesleyan this spring after a 42-year career here.
Posted 03/15/05
Fresh out of the Ph.D. program at the University of California at Berkeley, 26-year-old Karl Scheibe accepted a faculty position at Wesleyan University. Apparently, he liked his first job.
"It sure lasted a while," says Psychology Professor Scheibe, who has spent the more than four decades since teaching and doing research at Wesleyan. "I've considered going to other universities, but never did. And I've never regretted staying here."
Scheibe, a social psychologist known for his classes emphasizing relationships between psychology and theater, will take his final bow when he retires after the spring semester.
Throughout his career, he's taught 20 different psychology courses, some of which are self-invented. In 1980, he introduced an experimental course titled "The Dramaturgical Approach to Psychology," which proved to be popular with both psychology and theater majors. The course explores the use of the language of theater in the illumination of psychological questions, exploring issues such as politics in theater, audience effects, role-playing as a teaching and therapeutic technique, the actor's identity problems and general theory of the mask.
Today, the class is so well-known, Scheibe interviews students before allowing them to enroll in the size-restricted class.
"The class isn't for everybody," he explains. "This is for people who really want to get engaged and take charge. People who would rather sit through a lecture shouldn't be here."
Psychology major Elizabeth Thaler '05, says discovering the intersection of drama and psychology is intuitive to many students. The class, she says, helps students experience a real-life illustration of everything the psychology department teaches.
 "The first day there was a buzz of mystery and excitement, because all anyone knew about the class was that it was intense, revealing, and huge amounts of fun," Thaler says. "The fun is very important—we make ourselves pretty vulnerable and at times go into dark territory. The fun keeps us eager for more."
Thaler says Scheibe puts class into the students' hands, but stands by as a guide, providing agency and support.
"There is a feeling of trust in that classroom that I haven't experienced anywhere else at Wesleyan, and the trust works both ways. He seems infinitely wise yet eager to learn from his students; we're all in it together," she says. "In the weekly journals we write him, I feel free to talk honestly about almost anything, from my personal life to my complaints about the class. I didn't walk in feeling that way, it was the way Scheibe leads us that opened me up."
Scheibe applied for a position at Wesleyan based on its "yeasty qualities," he said.
"Wesleyan was a traditional New England small college, but it had this known quality of change  –  this avant garde – on-the-edge element that other colleges around here lacked," he says.
A faculty position at Wesleyan also came with a daunting reputation. Scheibe said he and other junior faculty colleagues were bathing in tenure anxiety from the very beginning.
When he was hired in 1963, he was one of only six psychology professors in the department; now there are 14 on tenure and tenure track.
Wesleyan's 11th president, Victor L. Butterfield, was in charge of the all-male university. Fraternities were quite conspicuous on campus, and Scheibe found himself in the curious position between teaching and being one of the boys.
"I was 26. I was listening to the same music as the students and sharing their culture. I even chaperoned frat parties, as back then, parties had to have chaperones," he says, recollecting memories of his early days. "Wesleyan was a very different place then. But then, as now, it was an exciting place to be."
Scheibe was promoted to associate professor in 1967, was awarded tenure in 1968, and was promoted to professor in 1973.
"Wesleyan was rich and resourceful and it was able to afford the best professors in the nation," he says. "It was a superior institution, and it still is."
Like most professors at the time, Schiebe came to Wesleyan with a broad array of abilities. Throughout the years, his research has focused not only on psychology's association with theater, but also on theoretical issues of psychology of self and identity. His current research interests also include problems of substance abuse and other excessive appetites.
Julie Glickman '04, events assistant for the Center for the Arts, took two of Scheibe's classes. Scheibe was also her academic advisor while she was pursuing her degree in psychology.
 "Professor Scheibe is a kind and compassionate man," she says. "He had the ability to captivate not only a small seminar of 20 students, but an entire auditorium with 350 students. He was an exceptional instructor and mentor."
Psychology master's student Justin Freiberg says Scheibe creates a structure in his class that makes the students feel safe enough to share openly, and to be spontaneous.
"He makes students take the initiative in figuring out what exactly they just learned," Freiberg says. "You might think to yourself that what just happened was really a bunch of improv, and while this is true, it is in connecting the classes back to the readings and to past studies, be they in psychology or drama, that the real value lies."
In addition to teaching courses at Wesleyan, Scheibe taught two-week graduate-level classes at an English-speaking DUXX Graduate School of Business Leadership in Monterrey, Mexico during the entire seven-year existence of the program. He also had two Fulbright appointments at the Catholic University of Sao Paulo, the first in 1972, the second in 1984. He taught these in Portuguese.
In Brazil, Scheibe wrote his first book, "Beliefs and Values."  He's also the author of "Mirrors, Masks, Lies and Secrets," "Self Studies" and "The Drama of Everyday Life," published in 2000 by Harvard University Press. The book describes human lives as dramas, that "we all live in boxes," that are "little theaters wherein the play is earnest and the players all convinced of their grasp on reality."
Upon retiring, Scheibe has plenty to keep him busy. Currently a part-time clinical psychologist, Scheibe will continue to practice at his business in Old Saybrook. He'll focus the bulk of his time as the director of the new Wasch Center for Retired Faculty. This new center, slated to open on Lawn Avenue in fall 2005 creates a shared intellectual and social community where retired faculty members can continue their scholarly activities and participation in university life. Here, Scheibe hopes to complete another book, which is well underway.
"As a retired faculty member, I and others, need a place to go to think and write and read. And, when I am retired, they're probably going to want to give my office to someone else and I will need a place to put all these books," a smiling Scheibe says, peering up at hundreds of hard cover books, files and notebooks.
Ruth Striegel-Moore, professor of psychology and chair of the Psychology Department, says her colleague will be missed by other faculty members and students alike.
"Karl Scheibe has been a tremendous force in the psychology department," she says. "In the past 40 years, he has taught a broad range of courses to thousands of Wesleyan students, including The Dramaturgical Approach to Psychology, which exemplifies Karl's impressive breadth of scholarship and teaching. His students attest to his passion for teaching and his dedication to mentoring."
Scheibe says he will miss teaching and that it never became mundane. The students, he says, keep class motivating.
"Every semester had fresh students and it's like directing Hamlet all over again," he says. "Every cast was unique."
A comedy and theater performance, honoring retiring Psychology Professor Karl Scheibe, is scheduled at 9 p.m. April 22 in the Center for Fine Art Theater. "Out of My Head: Performing Minds" is a revue constructed and performed by four Wesleyan graduates—Catie Lazarus ('98), Wendy Spero ('99), Katie Buck ('99) and Adam Koppel ('02). All were students of the Psychology Department and all are actively involved in comedy and theater. Scheibe is retiring after 42 years of service on the Wesleyan faculty. Tickets cost $3-$4.
By Olivia Drake, The Wesleyan Connection editor