In this continuing series, Annie Roach '22, an English and Italian studies major from Middletown, Del., reviews alumni books and offers a selection for those in search of knowledge, insight, and inspiration. The volumes, sent to us by alumni, are forwarded to Olin Library as donations to the University's collection and made available to the Wesleyan community.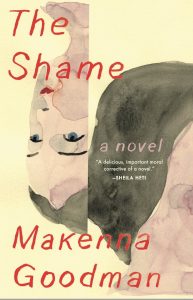 Makenna Goodman '06, The Shame (Milkweed, 2020)
In a letter to her children that she writes in case of an untimely death, Makenna Goodman's protagonist Alma muses, "My great fear, which has kept me up nights for years, is that you will have to live without a mother when you need one the most." This sentiment does not stop her from abruptly escaping her rustic Vermont home one night and leaving behind her young children and professor husband in pursuit of a life in New York City. As Alma's identity crisis unfurls throughout her road trip to Brooklyn, she gradually reveals to the reader the circumstances of her departure in hushed, urgent prose.
The development of the narrative mirrors the progression of a long drive: at times the story feels electrifying and precipitous, at other times dreamlike and ponderous. Goodman manages to create a character who is desperate, imaginative, and lost, evoking an image of motherhood that is Elena Ferrante-adjacent in its subtle rage and self-doubt. Goodman's novel also ties issues of the female consciousness to overlying sociopolitical systems and modern-day capitalism, making her work revolutionary in the world of female-authored literature. The Shame feels ultra-relevant in its interrogation of the contemporary female psyche and the pressures of marriage, motherhood, and career.