Human Resources Launches Virtual Orientation Web Site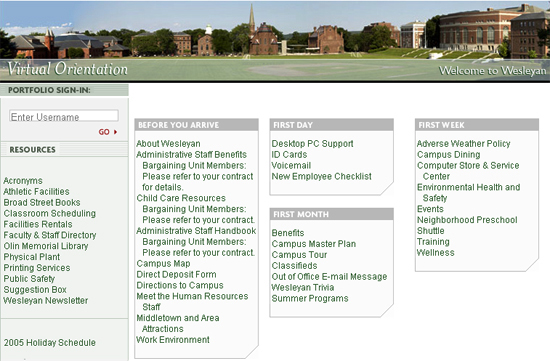 The Human Resources department's new Virtual Orientation Web site provides vital information for new employees.
Posted 05/02/05
Prospective employees can learn all about Wesleyan before they even set foot on campus — just by going online.
The Human Resources department has launched a Virtual Orientation Web site this month for new employees. The site can be viewed at:
http://www.wesleyan.edu/hr/newemployee
The site features a list of important resources, interesting facts and valuable information that employees will need before they arrive and during their first month at Wesleyan.
"We wanted to create a place for new employees to learn as much as possible about Wesleyan before they arrived" says Julia Hicks, associate Human Resources director.  "We also wanted to provide a place where existing employees can also view useful human resources information."
The Virtual Orientation web site contains similar material given to new employees on their first day but includes additional features such as an information on campus dining, the computer store and child care resources, the adverse weather policy, and even Wesleyan trivia. A new employee checklist explains where to pick up a Motor Vehicle Registration Form, Wesleyan Identification Card and how to get signed up for Wesleyan benefits.
The site also offers resources to employees who are not familiar with the Middletown area. An extensive list of places to eat and things see and do in Middlesex County is available on the site, as is a map of Middletown.
"Even employees who have been here for years will find a great deal of useful information on this site," Hicks says.
The site was developed by Vanessa Sabin, Human Resources administrative coordinator; Pat Leone, World Wide Web administrator, Jennifer Carlstrom, Web manager and Sasha Foppiano, formerly a web designer for the Office of University Communications. Sabin and Dan Pflederer, Human Resources functional specialist, coordinated focus groups to gather input and feedback regarding the site.
The development team explored numerous university orientation Web pages and came up with our unique look and feel.
"We picked a design that we felt would be the best fit for Wesleyan," Hicks says.
Harriet Abrams, director of Human Resources, encourages Wesleyan employees to offer feedback on the site and included a suggestion box link on the site for this purpose.
"We consider this a work in progress and we'll be continually updating and enhancing it," Abrams says. "The site is primarily focused on new hires but since it's accessible to anyone visiting Wesleyan's site, it's also a terrific marketing tool to encourage others to apply."
By Olivia Drake, The Wesleyan Connection editor