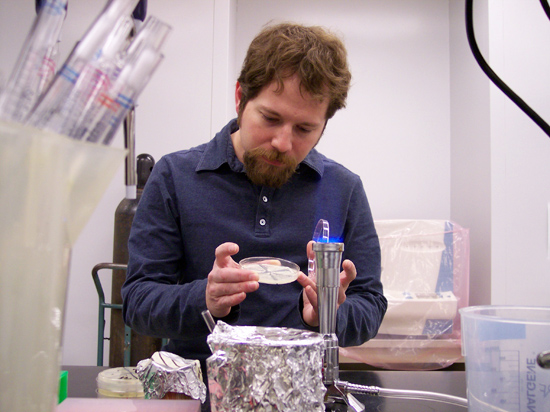 Mark Flory, assistant professor of molecular biology, studies genomic integrity in Hall-Atwater Laboratory.
Mark Flory joined the Molecular Biology and Biochemistry Department as an assistant professor of molecular biology and biochemistry in January 2005.

Flory, a native of Roanoke, Virginia, completed his bachelor's of science degree at the University of Richmond majoring in biology and minoring in chemistry in 1994. He earned his Ph.D. at the Molecular and Cellular Biology Program at the University of Washington, Seattle, in 2001. His dissertation was titled, "Isolation and Characterization of Calmodulin-Binding Centrosome Components Related to Sacharomyces cerevisiae Spc110p from the Fission Yeast Schizosaccharomyces pombe and Humans." Flory completed his postdoctoral research in proteomics and mass spectrometry in Ruedi Aebersold's group at the Seattle Institute for Systems Biology in 2004.

Flory's research interests involve understanding the specific mechanisms that ensure genomic integrity. These mechanisms are fundamental to the prevention of chromosomal abnormalities that accompany carcinogenesis. A core set of proteins, conserved in yeast and human cells, protects telomeric chromosome ends by forming a physical cap structure, termed the "telosome," that regulates access to chromosome ends. The low-abundance and biophysical properties of telomere-associating factors have hampered their identification and characterization, but he has successfully applied mass spectrometry to the identification of telomeric proteins in the fission yeast Schizosaccharomyces pombe.

"I hypothesize that the telosome serves as a repository for factors that dynamically function in an equilibrium balancing telomeric protection and DNA repair according to the needs of the cell under different conditions," Flory says.

While conducting postdoctoral research in Seattle, Flory also taught "Introduction to Biochemistry and Metabolism Parts I and II" at the University of Washington Extensions College for two years prior to coming to Wesleyan.

"I value highly the merits of a smaller-campus environment, but did not want to sacrifice the quality of my research program," he says. "Wesleyan provides a truly unique combination of high-level research with an intimate teaching environment ideally suited for effective training of undergraduate and graduate students. During my recent national job search, I found the Wesleyan life sciences environment is unique not only to Connecticut but across the country."

Flory is the co-author of nine articles, one technical report and a chapter in a book. He lives in Middletown with his partner Amy Sanchez, a chocolate lab named Ace, and a cat named Denson. He enjoys listening to and playing classical and jazz piano, kite boarding on water and snow and hiking.
By

Olivia Drake

, The Wesleyan Connection editor