International Students Share Wesleyan Memories at Senior Reception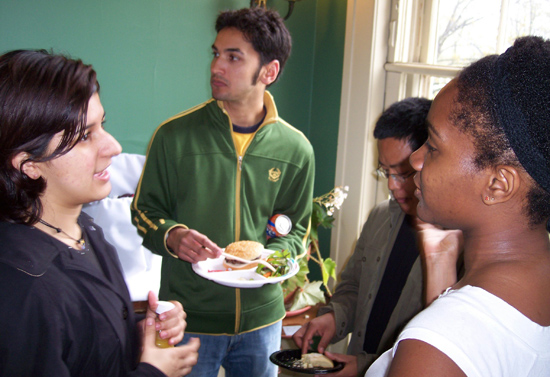 From left to right, Ambika Ahuja '05 of Thailand, Zaheed Essack '05 of South Africa, Phudorji Sherpa '05 of Nepal, and Lianne Morris-Smith '05 of Jamaica converse at the International Student Senior Reception.
Posted 05/02/05
The Office of International Student Services held an International Student Senior Reception at the Russell House April 27.
More than 25 international students and exchange students attended. Some gave brief remarks about their experiences at Wesleyan while others mentioned ways they plan to stay connected with Wesleyan after graduating.
"Whether they stay in this country or travel back to their home country, these students can maintain a relationship with Wesleyan," says Theresa Cann, coordinator of International Student Services.
Wesleyan staff, administrators, and faculty attended, including the Senior Class Dean, Louise Brown.
By Olivia Drake, The Wesleyan Connection editor