Project and Events Coordinator Plans Alumni Councils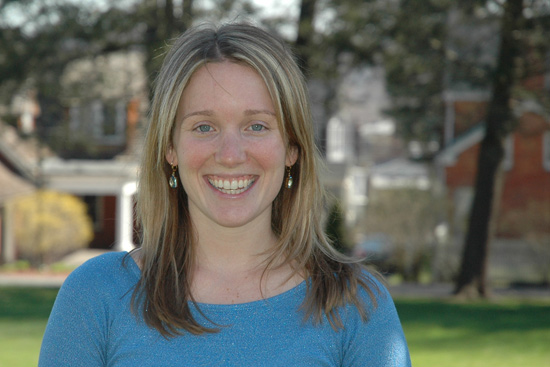 Meghan Fay, project and events coordinator for alumni and parent relations, helps coordinate regional presidential events and council meetings during Reunion and Commencement.
Posted 04/17/08
Q: Meghan, when did you join the staff in University Relations?

A: I joined the University Relations team in January 2007 because it was a great fit for me professionally. I really enjoy the collaboration among departments, work ethic, and creativity that is pervasive throughout the university.

Q: Where is your office located?

A: I work at 330 High Street; our building is the white house.

Q: What are a few projects you have been involved with during the academic year?

A: Since I started I have been involved in planning and coordinating Alumni Councils. Alumni councils are comprised of Wesleyan alumni and parents who share an interest in a specific aspect of the university and who want to be involved in these areas to benefit Wesleyan. To date we have created the Athletics Advisory Council (AAC), Career Advisory Council (CAC) and the Council of Regional Programs (CRP). I work most closely with the AAC and the CAC. In addition to the councils, I also manage special events.

Q: What are some typical events you help coordinate?

A: Some of the events I help coordinate are regional presidential events, council meetings and specific events during Reunion and Commencement and Homecoming/Family Weekend. Planning an event, whether it's a served dinner for 100 or a meeting for 20, takes the same attention to detail. I make a step by step program flow and from there determine which vendors I need to work with. It's all about the details!

Q: What is the busiest time of the year for you and why?

A: The busiest time of year is the time leading up to multi-day events such as Homecoming/Family Weekend and Reunion and Commencement Weekend.

Q: What is your personal role with hosting Reunion and Commencement Weekend?

A: This year I am working on the 50th Reunion Dinner, Donor Associates Reception, WESeniors Breakfast, Athletics Hall of Fame Luncheon and several other events.

Q: During the day, how do you spend most of your time?

A: I spend a lot of time on email and in meetings during the day. I do get to meet and interact with alumni and parents at special events, council meetings, and responding to inquires via phone and at alumni@wesleyan.edu.

Q: Who are the key people you work with on a daily basis in UR?

A: I work directly for Gemma Ebstein, assistant vice president of alumni and parent relations, and Kelly Roos, associate director of alumni and parent relations and development officer. The three of us make up a small – but hardworking – team within the Office of Alumni and Parent Relations.

Q: What do you like most about working at Wesleyan?

A: I really enjoy my colleagues. Everyone is so helpful, creative, hardworking and energetic. After my first month here it was clear to me that everyone loves what they do and with that attitude it really makes you want to work hard and be successful! My job is constantly changing. New events and projects are always being created so I'm never bored. I think that is key to enjoying your work – you have to be challenged!

Q: Do you have any relation to Brian Fay, the William Griffin Professor of Philosophy?

A: Yes, that is my dad!

Q: Where did you attend college and what was your major?

A: I didn't have the typical college experience. I went to college in Boston, and then came home to finish my degree at Central Connecticut State University, while working full-time. I majored in marketing.

Q: Where are you from and what are your hobbies?

A: I was born and raised in Middletown and am a resident now. I like to be active so I enjoy yoga, Pilates, and walking my Italian Mastiff, Thunder. I also enjoy boating during the summer and traveling with my boyfriend.
 
By Olivia Drake, The Wesleyan Connection editor