Professor of Art Awarded Guggenheim Fellowship for Sculpture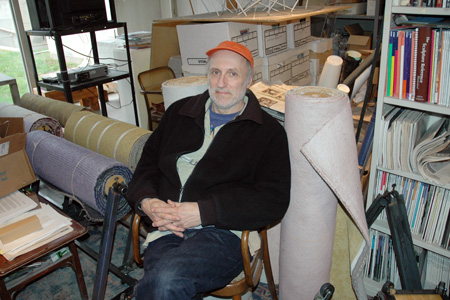 Jeffrey Schiff, professor of art, is a Guggenheim fellowship recipient.
Posted 04/21/08
Jeffrey Schiff, professor of art, was awarded a 2008 Guggenheim Fellowship by the John Simon Guggenheim Memorial Foundation. According to the foundation, the "fellowships are appointed for stellar achievement and exceptional promise for continued accomplishment." Schiff's fellowship was awarded in the "Fine Arts" category in recognition of his work in sculpture.
The program provides funds to permit fellows to work with "as much creative freedom as possible." The fellowships are without conditions or stipulations, allowing recipients the liberty to spend the awarded funds in the way they see to best affect their creative work. Schiff is one of 190 fellows who were awarded with monies from the $8.2 million in fellowship grants.
"Professor Jeffrey Schiff has been deeply committed to, and very successful in, using his artistic vision to reach out to the greater world beyond the Wesleyan campus," says Joseph Bruno, vice president for academic affairs and provost.
"We place a high premium on creating scholarly and artistic work that has just this type of far-reaching impact. It is no surprise to me that Jeff has received this honor from the Guggenheim Foundation, and I'm delighted that the Foundation has recognized his important work with such a strong show of support," Bruno says.
Schiff is known for his contemporary sculptures which feature a mix of natural and industrial materials. Many of his works are large-scale pieces and he has been commissioned to do public installations such as a steel and bronze piece located at the South Station bus and railroad terminal in Boston. In his pieces one can observe an interplay between different objects and meaning beyond the physical structures.
Schiff says he was "Surprised, grateful, honored, perplexed, hopeful, [and] energized" upon learning that he was chosen to receive such a prestigious grant.
"The Guggenheim funding will make it possible for me to construct works that were simply too costly to make without assistance. Precisely what I'll be making is yet to be determined," Schiff says.
Schiff is also grateful that being in the liberal arts environment at Wesleyan helps inspire and inform his art.
"Working at Wesleyan has been an enormous influence on my work," Schiff says.
"First, I am influenced by the exchange of ideas on a broad range of subjects that I enjoy with my colleagues, or encounter from visiting speakers and resources such as the Center for Humanities. Second, contact with my students keeps alive ideas about art that are not a principal focus of my own work. Finally, I do a lot of the actual making of the sculpture here, making use of the digital printing facilities and ITS expertise, and especially working with the invaluable Scientific Support Services Machine Shop, whose skilled fabricators have dramatically extended the possibilities of my work," he says.
By Corrina Kerr, associate director of media relations