The Wesleyan Connection: Campus Snapshot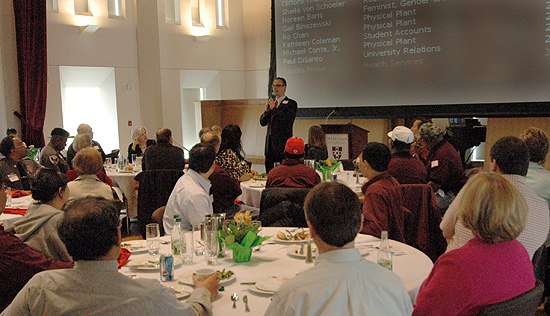 EMPLOYEE RECOGNITION: Wesleyan President Michael Roth speaks to the 102 attendees of the Wesleyan Employee Service Recognition Lunch for employees that have worked at the university for 20 years or more. The event, held inside Beckham Hall in the Fayerweather building, was coordinated by the Office of Human Resources.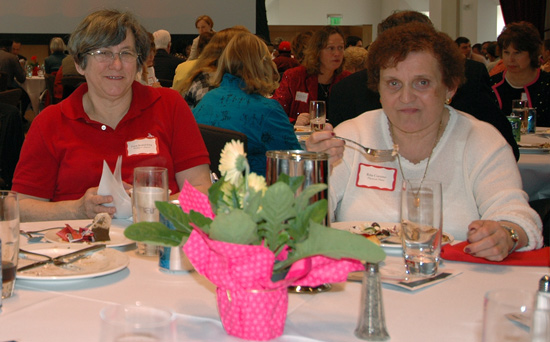 At left, Ilana Konerding, postal clerk at Wesleyan Station, celebrated her 23rd year at Wesleyan, and Rita Corsino, custodian in Physical Plant-Facilities, celebrated her 22nd year.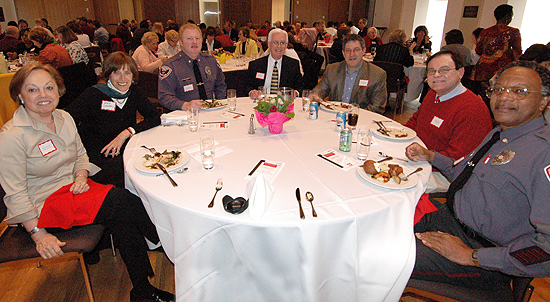 Celebrating their 20-years plus are, from left: Gina Driscoll, associate director of development events; Vera Schwartz, the Mansfield Freeman Professor of East Asian Studies, chair and director of the East Asian Studies Program, professor of history; Shawn Gage, public safety officer; John Driscoll, alumni director; Paul DiSanto, director of leadership giving; Denis Kacy, public safety officer; and Simon Bostick, public safety officer. (Photos by Olivia Bartlett)
A total of 133 staff and faculty have worked at Wesleyan 20 years or more. The employees, their office or department, and years worked at Wesleyan are:

Gregory Pyke, Admission Office, 30
Judith Goodale, Admission Office, 28
Dorothy Rich, Admission Office, 26
Charlotte Lazor, Admission Office, 25
Clifford Thornton, Admission Office, 22
Therese Overton, Admission Office, 21

Dianna Dozier, Affirmative Action, 23

Linda Shettleworth, Astronomy Department, 23

Marjorie Fitzgibbons, Biology Department, 41
Susan Lastrina, Biology Department, 38
Jeffrey Gilarde, Biology Department, 23

Margaret Carey, Best, Career Resource Center, 25
Virginia Zwelling, Career Resource Center, 23

Joanne Palmer, Center for the Americas, 20

Mark Gawlak, Center for the Arts, 22

Donald Albert, Chemistry Department, 39
Brenda Keating, Chemistry Department, 21
Holly Stevens, Chemistry Department, 28

Deborah Sierpinski, Medieval Studies/Classical Studies/Archaeology, 22

Shirley Lawrence, East Asian Studies, 32

Janice Guarino, English Department, 25

Noreen Baris, Feminist, Gender, and Sexuality Studies Program, 21

Edwin Below, Finance and Administration, 20

Susan Pavis, Finance Office, 29
Lynne Gambell, Finance Office, 20

Naomi Kamins, Graduate Liberal Studies Program, 20

Martha Schukoske, Health Services, 26
Joan Ecklund, Health Services, 22
Sandra Frimel, Health Services, 21

Julia Perkins, History and Theory, 27

Judy Buden, Human Resources, 25

Daniel Koepf, Information Technology Services, 28
Sharon Cwirka, Information Technology Services, 25
Allen Alonzo, Information Technology Services, 22
Jerry Maguda, Information Technology Services, 22
Bonnie Penders, Information Technology Services, 21
Ganesan Ravishanker, Information Technology Services, 21

Sylvia Fazzino, Molecular Biology and Biochemistry, 23

Hope McNeil, Music Department, 27

Philippa Coughlan, Behavioral Health for Students, 36
Rebecca Gagnon, Behavioral Health for Students, 34
Linda Russell, Behavioral Health for Students, 22
Stephen Henry, Behavioral Health for Students, 21

Ann Marino, Olin Library, 39
Pearlina Jackson, Olin Library, 38
Margery May, Olin Library, 38
Dale Lee, Olin Library, 28
Joan Schenker, Olin Library, 23
Dianne Kelly, Olin Library, 22
Doris Sherrow-Heidenis, Olin Library, 20

Nancy Chesbro, Physical Education, 27
Robert Chiapetta, Physical Education, 22

Albert Hurlburt, Physical Plant, 46
Robert Weber, Physical Plant, 38
Mark Chadsey, Physical Plant, 32
David Hall, Physical Plant, 31
David Wright, Physical Plant, 29
James Blancato, Physical Plant, 28
John Brown, Physical Plant, 27
David Pompei, Physical Plant, 27
Jimmie Tilley, Physical Plant, 27
Randolph Bougor, Physical Plant, 26
Edward Manter, Physical Plant, 26
William Sienkiewicz, Physical Plant, 26
Samean Chan, Physical Plant, 25
Sophat Men, Physical Plant, 25
Martin Natale, Physical Plant, 25
Claire Schukoske, Physical Plant, 25
Roeuth Chea, Physical Plant, 24
Richard Darna, Physical Plant, 24
Ray Mason, Physical Plant, 24
Samon Men, Physical Plant, 24
Salvatore Pizzo, Physical Plant, 24
Nicola David, Physical Plant, 23
Ernesto Marino, Physical Plant, 23
Sokhum Neou, Physical Plant, 23
Thomas Wright, Physical Plant, 23
Rita Corsino, Physical Plant, 22
Heather Heng, Physical Plant, 22
Thomas Macri, Physical Plant, 22
J. Scott Romano, Physical Plant, 22
Gail Binezewski, Physical Plant, 21
Ro Chan, Physical Plant, 21
Michael Conte, Jr., Physical Plant, 21
Mollie Lane, Physical Plant, 21
Chuth Prith, Physical Plant, 21
Jeffrey Sweet, Physical Plant, 21
Ralph Connolly, Physical Plant, 20
Roger Cropper, Physical Plant, 20
Sean Kane Physical Plant, 20
Michael Lynch, Physical Plant, 20
Kevin Webster, Physical Plant, 20

Anna Milardo, Physics Department, 36
Vaclav Miglus, Physics Department, 20

Lorraine Karatkewicz, PIMMS, 31

Catherine Race, Psychology Department, 26

William Holder, Public Affairs, 25
Brian Katten, Public Affairs, 25

David Meyer, Public Safety, 28
Simon Bostick, Public Safety, 26
William Heckstall, Public Safety, 25
Michael Kishimoto, Public Safety, 22
Shawn Gage, Public Safety, 20
Denis Kacy, Public Safety, 20

Sandra Niemczyk, Office of the Registrar Office, 30
Patricia Noyes, Office of the Registrar, 29

Rhonda Kissinger, Religion Department, 22

Sheila von Schoeler, Residential Life, 22

Susan Ferris, Russian Language and Literature/Center for the Humanities, 20

Linda Marquis, Science Library, 20

David Boule, Scientific Support Services, 29
Thomas Castelli, Scientific Support Services, 24
Bruce Strickland, Scientific Support Services, 20

Peter Patton, Secretary of the University, 31

Rene Rinaldi, Student Accounts Office, 23
Kathleen Coleman, Student Accounts Office, 21

Charles Carroll, Theater Department, 20

Mary Susan Julian, University Relations, 29
Jane Tozer, University Relations, 28
John Driscoll, University Relations, 25
Pamelia Vasiliou, University Relations, 25
Barbara-Jan Wilson, University Relations, 25
Lucinda Schulte, University Relations, 23
Eugenia Driscoll, University Relations, 22
Paul DiSanto, University Relations, 21
Dawn Astin Lowe, University Relations, 21
Meg Zocco, University Relations, 21
Linda Secord, University Relations, 20
Loretta Victor, University Relations, 20
Barbara Walker, University Relations, 20

Ilana Konerding, Wesleyan Station, 23
Donna Powers, Wesleyan Station, 22
Mark Melmer, Wesleyan Station, 21