New Magazine Gives Student Photographers Exposure
During a restless winter day in northeast Vermont, Katherine Bascom '10 had an indoor wrestling match with her overly energetic dog, Ori. Midway through the contest, Bascom grabbed a camera off her nightstand and began snapping some shots.
One of these photographs, a close-up action-shot of Ori, is the page 36 feature photo of Wesleyan's new, student-run magazine called Exposure.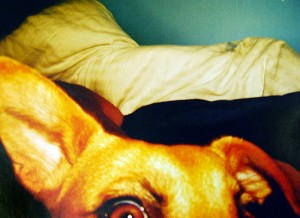 "This photo captures Ori's personality perfectly," says Bascom, a hobbyist photographer. "There is such a beautiful interaction between Ori's golden coat, the white stripes in the comforter, and the boldness of the bedroom walls. I love the simplicity and the sheer vivacity of the composition."
Bascom's photo is one of 77 photographs featured in the full-color, glossy-paper publication. Created by Wesleyan students in spring 2008, the non-profit magazine provides students a forum to display their work and promotes communication and cohesion within Wesleyan's photographic community.
Flipping through Exposure, readers will view both color and black and white photographs, digitally-enhanced images and straight shots from a film camera. Subjects vary from page to page, from Ross Heinemann's '09 hooked sea robin caught off the coast of Massachusetts to Stefan Weinberger's '10 crystal-clear, gray-scaled portraits.
"You don't need to be an art major or enrolled in a photography class to submit your work to Exposure," says Sophie Finkelstein '09, one of Exposure's seven co-editors. "Exposure is a place where all the photographers at Wesleyan can have a chance to show their work, not just those lucky enough to get into a class. It's an open venue for those interested in photography to participate in even if they are not academically involved in photography here."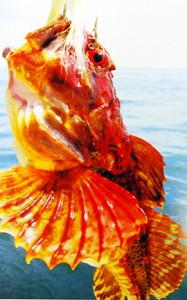 Hobbyist photographer and co-editor Jason Reif '09, who is double majoring in film studies and American studies, photographed Australia's Flinders Ranges with a wide-angle lens during his semester abroad in 2007.
"I took a lot of photos that day and from that one spot in particular since I had this great, unobstructed view of the ranges," Reif explains. "Some of them came out well, but I think the one in Exposure came out best because the person in the bottom gives it a real sense of depth and scale, plus a very symmetrical composition."
History major Angus Dykman '09 has two photographs on page 26. The prints, which are accidental double exposures of scenes taken on Interstate 95 and in New York City, sat in his backpack for a year. Dykman rediscovered the photographs and noticed the odd optical effects in each of the images. In one, an angled shot of a building front was combined with a shot looking off the back of a ferry. In the other, the grass near a lake at a highway rest stop bleeds perfectly into the hard gray New York City concrete, giving the sidewalk a unique texture.
Although Dykman had been working on his photography seriously during a semester in India, he submitted the combined negatives to Exposure because they were unique and more conceptual than his other photos.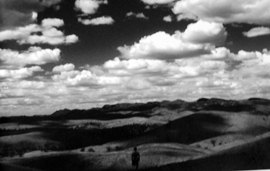 "I was totally astounded by the work in the magazine," Dykman says. "It's hard to believe all these great photos were just sitting around in people's rooms and not being shared. Wesleyan has so many talented artists. This magazine highlights some great new-feeling photographs, many of them seem free from the weight of photographic history and convention."
In addition to photographs, Exposure includes accompanying articles. These include a piece by Max Krafft '09 called "Capturing Iraq," which details his deployment to the Middle East as a bass player in an Army band. Other pieces include a short piece by Rod O'Connor '08 titled "Spectrographs" that explains how he digitally records sounds, and Monica Achitoff-Gray '09 discussing her discomfort in photographing impoverished children in Dakar.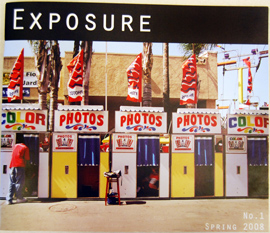 The 48-page, Exposure magazine is distributed to the campus community free of charge at various hubs around campus and will be published twice a year. The magazine's second issue is expected to be available prior to spring semester. It is financially supported by several Wesleyan and community sponsors.
Since Exposure debuted, editors Finkelstein, Reif, Pantic, Sam Jones '10, Josh Koenig '09, Jake Nussbaum '10 and Brooke Olaussen '09 have worked to move beyond the magazine and foster an idea of a photographic community. The staff is entertaining ideas such as hosting forums, lectures and critique sessions, and putting on a photographic show.
Bascom, who is majoring in English and the Environmental Studies Certificate Program, says opportunities for creative expression at Wesleyan are everywhere.
"Exposure is just another incredible example of how proactive students are with their interests," she says. "Through much hard work and dedication, the editors of Exposure have created an engaging forum for the photographic interests of campus. The first publication was such a success. It's exciting to see how the magazine will grow from here."
For more information or to submit a photo, e-mail Wesleyan.Exposure@gmail.com.