Andrew Klein: Science Librarian Manages Geological Map Collection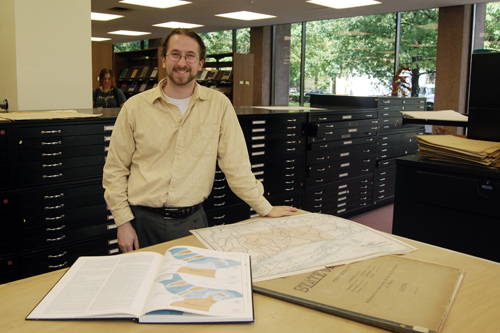 Q: Andrew, you are Wesleyan's new science librarian. What can you tell us about the library?
A:  We have nearly 200,000 books and thousands of online journals on every science topic imaginable. With a great study environment and a friendly, helpful staff, the Science Library is the best place to go for science information!
Q:  Who primarily uses the Science Library?
A:  Our primary users are the Natural Science and Mathematics (NSM) faculty and students taking science classes, but students from all over campus can be found studying here.
Q: Does the Science Library have all the same services as Olin Library? For example, do you have your own circulation and acquisition and cataloguing departments?
A: Yes, we offer all the services Olin does, but that's because Olin provides many of them for us!  They do our acquisitions and cataloging, as well as Interlibrary Loan. We do our own circulation and reserve services here.
Q: Is there an advantage of being separate from Olin?
A: I think our faculty and students appreciate us being separate since we can provide them with more personalized service.
Q: How many people are on the staff there?
A: We have two other staff members. Linda Marquis is our head of circulation and student supervisor. Roberta Raczka is our reserves coordinator and also oversees the study carrels. We also employ around 25 to 30 students – we couldn't do what we do without them.
Q: As the head librarian, what are your individual responsibilities?
A: I do selection of books and other materials, act as the liaison between the libraries and the NSM faculty, conduct personal research sessions with science students, teach information literacy sessions for science classes and sometimes staff the Reference Desk in Olin.
Q: Tell us about the United States Geological Survey map collection.
A: The map collection is a hidden gem, since much of it is not in the catalog. But it is quite extensive. The Earth and Environmental Science Department faculty are its heaviest users.
Q: Are there other collections of interest in the Science Library?
A: We maintain a collection of how-to books and manuals in computing and programming, called our Current Interest Collection. We also have a Leisure Reading section with science fiction and popular non-fiction works on science.
Q: What about the library would allure users to browse the aisles?
A: Well, our videos are quite popular. We house the DVD and VHS collection for all the libraries on campus. And we do keep it up to date with many popular Hollywood releases. You can check them out for seven days!
Q: When did you come to Wesleyan?
A: I started at Wesleyan on Aug. 4 of this year. I am here to help and I love meeting students and faculty. My office door is almost always open. Please stop by and say hello!
Q: Where were you working prior to Wesleyan? And what was it about the Science Library that appealed to you?
A: I was working as a science librarian at California State University, Northridge before coming here. I was attracted to Wesleyan for many reasons, but primarily because I love working in a liberal arts setting and Wesleyan is one of the best.
Q: Where did you attend college?
A: I attended another small liberal arts school, St. Olaf College in Northfield, Minn. and received a bachelor of arts degree in chemistry there. My master of library science degree is from Indiana University in Bloomington, Ind.
Q: Are you a bibliophilic, as they say? What are your hobbies outside of work?
A: I do love books, but seem to have trouble finding time to read for pleasure these days. I'm originally from Minnesota. Outside of work I enjoy singing choral music, watching Minnesota Twins baseball and spending time with my wife, Samantha, who is also a librarian, at Vassar College.