Joe Reilly: Basketball Coach Admires Tradition of Excellence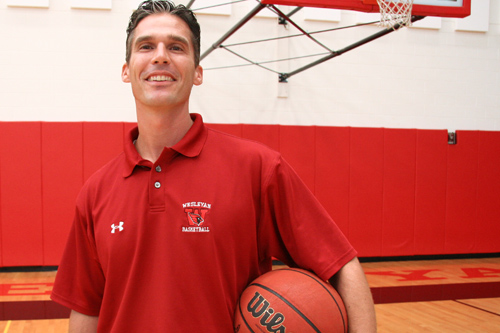 Q: Coach Reilly, this is your first season coaching the Cardinals. What attracted you to Wesleyan and the men's basketball program?
A: As a former player in the NESCAC at Trinity College and coach for 11 years at Bates College I have always thought that the Wesleyan basketball program had a tradition of excellence and a tremendous amount of potential. I enjoy working with dedicated student athletes at the Division III level in a rigorous academic environment and Wesleyan University certainly offers this setting. On a personal level, this was a great move for my wife and young children. We are originally from the greater Hartford area and it is going to be fun being back home closer to friends and family.
Q: The 2008-09 season begins Nov. 21. When does practice begin and what are your thoughts on the team so far?
A: Our first official practice will be Nov. 1. All other NCAA Division III teams begin on Oct. 15, but due to our conference rules we must start at a later date. As a coach in the NESCAC you have the challenge of less preparation time to get your team ready for competition. It will be particularly challenging the first year as we are introducing a new system to the entire team, not just the freshmen. I have a very open mind about the season and believe we can be very competitive. It is my belief that I have a responsibility to the five dedicated seniors on the team who will be playing for their third coach in the past three seasons. It is going to be interesting to see who steps up their game this year – everyone will begin the season with a clean slate.
Q: How have you been getting to know your players here at Wesleyan?
A: I was able to meet with the team last April after I was hired and before the players left campus for the summer. I had an individual meeting with all returning players and we discussed a game plan to play and lift weights as much as possible during their break. It was also an opportunity to learn more about their academics interests and goals outside of athletics. Due to NCAA Division III rules I cannot work with the players until our official start date but they do work out with Drew Black, our strength and conditioning coach. They also drop by at the office before or after they are working out on the court and in the weight room.
Q: What are your goals for the men's program this year?
A: I believe it is important to work with the team to determine annual goals and we will do that during an on campus retreat in mid November once tryouts are completed. My vision for the program is that we will be the hardest working and best conditioned team in the NESCAC and we will strive to get better in practice every day. Every team in the country can have a leading scorer and five starters – it is rare that you find a team full of individuals who put the team goals ahead of their own individual endeavors. It is my hope we will have a 'team first' attitude and can compete for a Little Three and NESCAC Championship. The NESCAC is currently one of the toughest men's basketball conferences in the country so we a lot of work ahead of us. Our goal is to be the best team in NESCAC – and if you are you can compete at the highest national level. Our NESCAC peers have been successful at the national level and I think we can too.
Q: Your assistant coach, Jimmy Shepherd '07, also is new to the coaching staff this year. How has he helped you acclimate to the Wesleyan team?
A: I have known Jimmy since I was recruiting him as a post graduate at Phillips Exeter and he has been a great asset for the program. He worked and attended basketball camps and exposure events throughout the Northeast this summer and is working hard recruiting qualified student athletes to Wesleyan. His greatest strength is his love and passion for Wesleyan University. He is a great fit for our graduate intern program and will be fun to work with for the next two years.
Q: Prior to Wesleyan, where were you coaching and for how many years? Any records you are most proud of?
A: I was the head coach at Bates College in Lewiston Maine for 11 years after serving as an assistant coach at Yale University for three seasons. I am proud of the program that was established at Bates during my tenure. My first season I inherited a team that had only three victories and 21 losses – it was a very challenging season. In 2007-08 we completed our 8th consecutive winning season and averaged over 18 wins a season the last six years. Bates was a wonderful institution and I was blessed to work with so many quality student athletes and professional colleagues. I am hopeful that the friendships that have established the past 11 years will last a lifetime.
Q: In 2005-06, you were named the NESCAC Coach of the Year. Please elaborate on that particular season.
A: We lost in the 2005 NESCAC championship game and then graduated four great seniors. It was believed that 2005-06 was going to be a rebuilding year. Our two returning seniors did an amazing job leading a young team and we experienced the program's first ever 20 win season. We started the season off 2-3 and then won a school record 16 games in a row including a 4-0 record against our CBB (Colby, Bates, Bowdoin) rivals.
Q: Where did you attend college, and what did you major in?
A: I was an economics major at Trinity College and then received an MBA from the University of Rhode Island. I played basketball for four years in the NESCAC at Trinity College. It was a great experience and was the main reason I decided to pursue a career in college coaching. I am still very close with many of my former teammates and other NESCAC players from other colleges.
Q: Aside from basketball, what are your hobbies/interests?
A: My wife Isabel and I are blessed with four fun and energetic kids who are very excited about being close to aunts, uncles, cousins and grandparents. Most of my time outside of work is spent with Joey, 8, Carly, 5, Lenna, 3 and Johnny, 1. There is a lot of work to be done to build the Cardinal Basketball program and my family will help me remain balanced throughout the process. As a family we enjoy hiking, swimming and spending time at the beach. I am also passionate about directing youth basketball clinics during the off season and using basketball as an avenue to teach youth valuable life lessons.
Q: You come from quite an accomplished basketball coaching family. Tell us a bit about that.
A: I played high school basketball in Hartford CT for my father who is one of only a handful of coaches in Connecticut to win over 500 games during his career. Unfortunately he passed away in 2004 but he still serves as an inspiration to me – he was a terrific coach and an even better father and husband. My father's youngest brother Gene Reilly recently retired as the boy's basketball at Portland High in Connecticut with over 500 victories as well. My brother Luke was a Division I player at the University of Hartford and is currently the coach at East Catholic High School in Manchester, Conn. Hopefully he can encourage some of his talented players to consider attending Wesleyan!