Fields's '03 Photograph Accepted into Juried Competition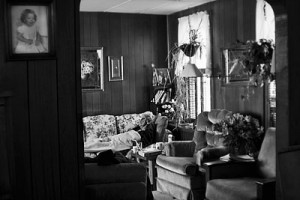 A photograph by Jenny Fields '03, digital asset and project coordinator for University Communications, was chosen to be part of the Shoreline Arts Alliance's IMAGES photography exhibit. The annual, juried photography competition is open to all residents of Connecticut and is highly regarded for excellence statewide. The exhibition will run from Feb. 9-28 at the Guilford Art Center, 411 Church Street, Guilford, Conn. The gallery is open from noon to 4 p.m. daily.
The photo, titled "Rest," is part of a series Fields photographed to chronicle the end of her grandmother's life.
"It's true that art heals," Fields writes in her artist's statement. "Somehow, the loss took on a different meaning with the inception of this project. I believe that as a culture, we would be better off if we started addressing inevitability, end results, final products. My grandmother taught me not to waste, how to stretch resources, and how to make the best of any situation. She taught us all how to live well, and how to die with dignity."