Lowrie Author of Book on Mirrors in French Literature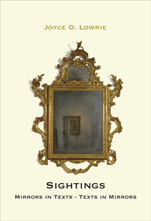 Joyce Lowrie, professor of romance languages and literatures, emerita, is the author of Sightings: Mirrors in Texts – Texts in Mirrors, published by Rodopi in December 2008.
This book analyzes mirror imagery, scenes, and characters in French prose texts, in chronological order, from the 17th to the 20th centuries. It does so in light of literal, metaphoric and rhetorical structures. Works analyzed in the traditional French canon, written by such writers as Laclos, Lafayette, and Balzac, are extended by studies of texts composed by Barbey d'Aurevilly, Georges Rodenbach, Jean Lorrain and Pieyre de Mandiargues.
This work offers appeal to readers interested in linguistics, French history, psychology, art, and material culture. It invites analyses of historical and ideological contexts, rhetorical strategies, symmetry and asymmetry.