Faculty Teach Elementary Students DNA, Natural History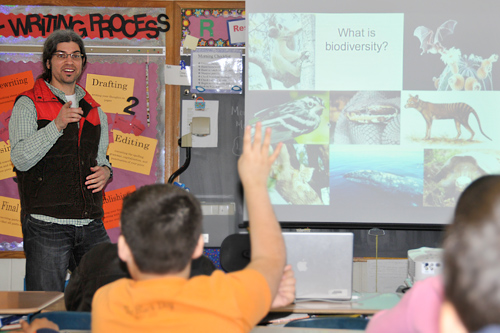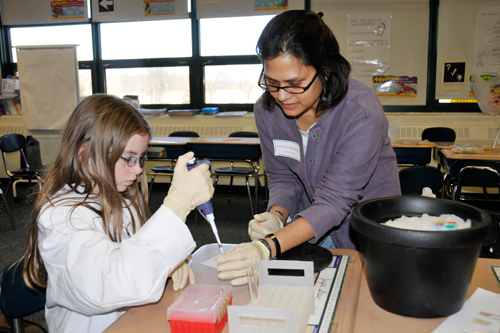 During a "Who Done It? A DNA Investigation," elementary school aged children sported white lab coats and became "detectives" hoping to solve a crime.
The students learned about DNA structure by isolating DNA from wheat germ and comparing DNA samples from a 'crime scene' with the DNA from five suspects. They learn how DNA forensics actually works – just like on the television show "CSI."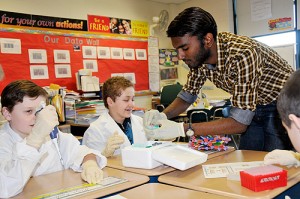 The DNA study, led by Ishita Mukerji, professor of molecular biology and biochemistry and Jegadish Gunasagaran '11, was one of several fast-paced, hands-on workshops held during the "Middletown Minds in Motion" program March 21 at Snow Elementary School.
"The workshops are designed to encourage curious students to try new experiences in a variety of subject areas," explains Jennifer Hadley, library assistant and Minds in Motion co-chair. "This year's workshops ranged from robotics to dance, mathematics, fencing, logic, pottery, yoga, chemistry, karate, clowning, theater, hip-hop, fitness and much more."
Michael Singer, assistant professor of biology, and biology graduate student Peri Mason taught a workshop on "Biodiversity in Connecticut and Beyond." Their goal was to teach participants about natural history and the biologically diverse animals that inhabit Connecticut ecosystems, even backyard ecosystems. They focused on insects, reptiles and amphibians.
"We believe, like many other people do, that most children in modern, urbanized societies experience limited opportunities and encouragement to play, physically and mentally, in natural environments, and to let nature capture their imagination," Singer says. "We think that when children have opportunities to bond with nature through play, they develop an enduring appreciation for the personal value of biodiversity, sometimes called biophilia."
Both Singer and Mason know from personal experience how fulfilling a hands-on relationship with nature can be. By showing images, live animals, and sharing interesting natural history stories, they offered students an opportunity to be captivated by biodiversity.
"For those students who already had an appreciation of local biodiversity, our presentation reinforced that and showed them by our personal examples that biophilia is worth keeping in their lives, rather than a phase of childhood that they should 'grow out of,'" Singer says.
"Minds in Motion" also included free activities for parents, including a keynote talk by nationally-known educator and author, Nathan Levy, speaking on "Powerful Ways to Help Children Reach Their Potential." Other workshops focused on parenting gifted children, creating delicious healthy meals, raising readers and parent leadership programs.