Whedon '87 to Keynote Shasha Seminar in May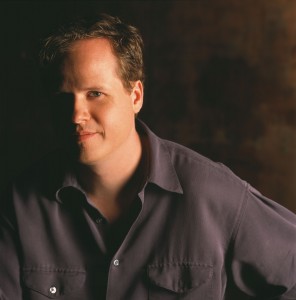 Joss Whedon '87, writer, director and executive producer of such popular TV shows as "Buffy the Vampire Slayer," "Angel," "Firefly," and the new series "Dollhouse," will give the May 30 keynote address for the seventh annual Shasha Seminar for Human Concerns. The unique seminar scheduled for May 29 through 31 will focus on "Defining American Culture: How Movies and TV Get Made."
Jeanine Basinger, the Corwin-Fuller Professor of Film Studies, Chair of the Film Studies Department, and curator of the Cinema Archives will be the facilitator for this seminar. Other presenters include successful Wesleyan alumni who work as film and TV producers, directors, writers and actors.
"This seminar provides an opportunity for an intellectual examination of films and TV and their influence on our culture," says Linda Secord, Director of Alumni Relations and the Shasha Seminar organizer.
"Participants will talk with experts in the field regarding the creative process, commercial pressure, censorship issues, casting, and more. They will also experience a hands-on exercise in bringing a project from idea to final product," she says.
Other alumni presenters during the weekend include:
Mark Bomback '93, screenwriter, whose credits include "Race to Witch Mountain," "Live Free or Die Hard," and "Deception."
Liz Garcia '99, producer, editor and writer of "Cold Case."
Paul J. Weitz '88, writer and director of "American Pie" and "About a Boy."
Ed Decter '79, writing partner on "There's Something About Mary" and "The Santa Clause 2," director of "The New Guy."
Evan Katz '83, screenwriter and the executive producer of the television series "24."
David Kendall '79, director of several television series, including "Jonas," "iCarly," "Hannah Montana," and "Growing Pains."
Dan Shotz '99, producer, editor and writer, "Jericho" and the TV show, "Harper's Island."
Matthew Greenfield '90, vice president of production, Fox Searchlight Pictures.
Alex Kurtzman-Counter '95, screenwriter and executive producer of the new "Star Trek: The Imax Experience" and "Transformers I" and "Transformers II," and the writer and creator of the TV show "Fringe."
Dylan Leiner '93, executive vice president, acquisitions and production, Sony Pictures Classics.
Jeffrey S. Lane '76, five-time Emmy Award winner and television writer of "Mad About You" and "Cagney and Lacy."
Mark Harris, author of the current best seller, "Pictures at a Revolution: Five Movies and the Birth of the New Hollywood," will be the dinner speaker on Friday evening, May 29. Harris is a writer and editor, covering movies and pop culture for Entertainment Weekly in a column called "Final Cut." The keynote address is scheduled for 8 p.m. Saturday May 30.
The Shasha Seminar for Human Concerns, endowed by James Shasha '50, P'82, is an educational forum for Wesleyan alumni, parents and friends that supports lifelong learning and encourages participants to expand their knowledge and perspectives on significant issues.
Past seminars have covered such diverse topics as: food, sports culture, creativity, the environment, ethics and global conflict.
The cost to attend the weekend-long Shasha Seminar is $250 per person.
For more information or to register, please contact Linda Secord, Director of Alumni Relations at lsecord@wesleyan.edu. Updated information will be available at: http://www.wesleyan.edu/alumni/shasha/.