Odede '12, Posner '09 Receive Award to Build School in Kenya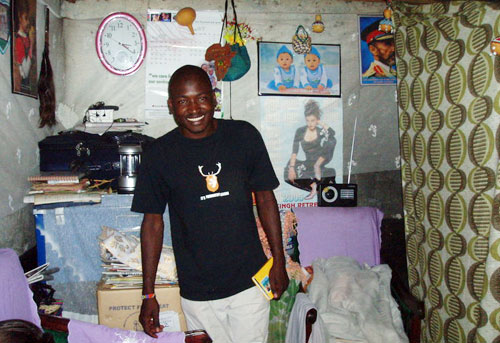 Born and raised in Africa's largest slum, Kennedy Odede '12 witnessed abuse, rape, domestic violence and general mistreatment of school-aged girls in his community. His own sister, at age 17, gave birth to a baby recently as a result of rape.
Sadly, this is the norm. Without access to education, many of the girls are forced into commercial sex work at early ages. The Kenyan Government views the slum, named Kibera, as an illegal settlement and therefore does not provide any services or government-funded schools.
"Girls in my community lose their hope of ever attaining an education and ever leaving the slum," Odede explains.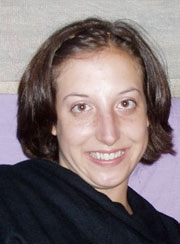 As 2009 Davis Projects for Peace grant recipients, Odede and his project partner Jessica Posner '09 hope to make a difference in these girls' lives by constructing the slum's first all-girls school called the Kibera School for Girls. Project for Peace awards, worth $10,000, are designed to encourage and support today's motivated youth to create and tryout their own ideas for building peace.
The school will offer 105 girls in grades K through six a high-quality formal education based on Montessori school teachings, as well as daily nourishment, self-empowerment, and a refuge from the pressures of the slum. By preparing students for higher education and skilled jobs, Posner says the school will keep the girls out of prostitution and offer them a potential path out of the slum.
"Our hope is that after they leave the school, they will be academically qualified for scholarships at prestigious government boarding schools, and can eventually attend college," Posner says.
"They're not just going to leave the school. I want to keep a watch on them and make sure they have a good life," Odede adds.
The Kibera School for Girls will be built through a partnership with a community organization in Kibera called Shining Hope for Community (SHOFCO). Odede founded this organization in 2005 and has since registered it with Kenya's Ministry of Gender and Children's Affairs. SHOFCO will run and manage the school after it is built.
Building the school will be a 10-week affair starting in July. Odede and Posner will spend the first two weeks collecting input from the Kibera community. SHOFCO has already secured a plot of land in the center of Kibera on which to construct the school facilities.
They've hired an architect to lead the construction project, and found a school principal to design and implement of the school's curriculum. The principal, Mrs. Mwangi, has already assembled a staff of certified teachers, who are all women from Kibera. SHOFCO has also enlisted the services of a volunteer counselor who will visit the school twice a week.
With help from community members, Posner and Odede will construct the school. It will contain eight classrooms, a teacher's lounge, a library open to the community, an outdoor eating space, storage space, two pit latrines, a water tank, and a small farm. The school will sell fresh water, chicken eggs, farm-grown produce and latrine usages to sustain the school and support teacher salaries.
The school's staff will hold interviews for admission, placing orphaned girls or victims of sexual abuse as those with the greatest need for schooling.
"Kennedy was always talking about building a school for girls in Kibera," Posner says. "I think it's been a dream of his for such a long time."
Odede, the first person from the slum to attend college, hopes he can be an influence on the students' lives. He grew up in a 10-by-10-foot room shared by his parents and seven siblings and is a self-taught English speaker who always wanted more from life than to live in the slums. His parents consider him to be a "miracle."
"I just want to show these girls that another way is possible," he says.
Posner met Odede in 2007 while studying abroad in Kenya and working on a theater production together. She persuaded Odede to apply to Wesleyan, and the university offered him a full scholarship. After Wesleyan, Odede hopes to attend graduate school and work in international relations.
"Education has saved my life," Odede says. "The Kibera School for Girls is a symbol of gratitude for the peace education has given me, and of my hope that I can do the same for my community. It is my hope that by building the Kibera School for Girls one day in the not so distant future young women from Kibera might find themselves in my shoes: able to speak about the struggles that our community encounters and act upon them."
For more information on the project e-mail Posner at jrposner@wesleyan.edu or visit www.hopetoshine.org.