Tower '96 Makes Remarkable Fiction Debut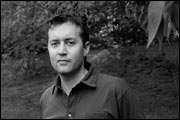 Author Wells Tower '96 recently garnered rave reviews across the country for his first short story collection, Everything Ravaged, Everything Burned (Farrar Straus Giroux) which was published in March. The book received two fine reviews in the same week in The New York Times and was the cover review for The New York Times Sunday Book Review.
For the Sunday Times, acclaimed writer Edmund White wrote: "Every one of the stories .., is polished and distinctive. Though he's intrigued by the painful experiences of men much older than he is, Tower can write with equal power about young women and boys; about hell-­raising, skull-bashing ancient Vikings and an observant housebound old man of the 21st century … His range is wide and his language impeccable."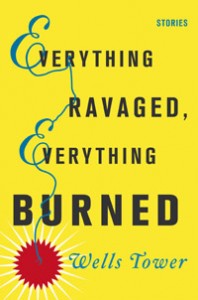 In her weekday review for the Times, Michiko Kakutani, one of the paper's toughest literary critics, praised Tower's "masterly conjuring of his people's daily existence, his understanding of their emotional dilemmas, his controlled but dazzling language and his effortless ability to turn snapshots of misfits and malcontents into a panoramic cavalcade of American life."
Tower majored in anthropology and sociology at Wesleyan. He received an MFA from Columbia University, and two stories he wrote there were published by The Paris Review. Tower has also written nonfiction articles for the past five years for The Washington Post and Harper's. Besides following his dream of working as a writer, he also played in a punk band for six years.
In a recent interview in The New York Observer, Tower said: "I think what people really want is fiction that in some tiny way makes their life more meaningful and makes the world seem like a richer place. The world is awfully short on joy and richness, and I think to some extent it's the fiction writer's job to salvage some of that and to give it to us in ways that we can believe in."
Link to the New York Times Sunday Book Review article:
http://www.nytimes.com/2009/03/29/books/review/White-t.html?ref=books
Link to weekday New York Times review:
http://www.nytimes.com/2009/03/24/books/24kaku.html?_r=1&scp=4&sq=%22Wells%20Tower%22&st=cse
New York Observer interview:
http://www.observer.com/2009/books/wells-tower-fiction-writer-looking-joy