Curator Emerita D'Oench Dies at Age 78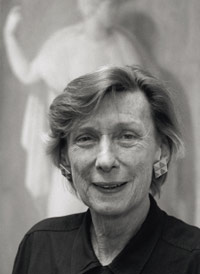 Ellen "Puffin" D'Oench, curator emerita of the Davison Art Center, adjunct professor of art history emerita, and former trustee of Wesleyan University died May 22 in Middletown. She was 78 years old and had been ill for some time.
D'Oench interrupted her education at Vassar College to marry Russell "Derry" D'Oench and raise their family. She completed her undergraduate education at Wesleyan in 1973, graduating magna cum laude and Phi Beta Kappa in the same class as her son Peter. She received a Ph.D. from Yale University in 1979.
D'Oench was Curator of the Davison Art Center from 1979 until 1998. She served as a board-elected member of Wesleyan's board of trustees from 1977 through 1979.
Her doctoral dissertation resulted in the exhibition and catalog "The Conversation Piece: Devis and his Contemporaries" at the Yale Center for British Art. She co-authored catalogues raisonnés on Jim Dine and Sylvia Plimack Mangold, and curated numerous exhibitions on topics ranging from the color photography of Robert Sheehan to prodigal son narratives. After retiring, she published Copper into Gold: Prints by John Raphael Smith, 1751-1812.
At Wesleyan, she taught courses on museum studies, the history of prints, and the history of photographs, and advised many tutorials and student-organized exhibitions at the Davison Art Center.
D'Oench was a gifted scholar, a generous colleague, and an inspired teacher who sparked in many a love of prints and photographs. With the aid of gifts and funds raised by the Friends of the Davison Art Center, she expanded the renowned collection of the Davison Art Center by more than 5,000 objects, including significant photographs and contemporary prints.
D'Oench is survived by three children, five grandchildren, and one great-grandchild.
Donations in memory of Puffin may be made to the Friends of the Davison Art Center, Wesleyan University, or to Middlesex County Community Foundation, Inc. More information is available at Doolittle Funeral Home: http://obit.doolittlefuneralservice.com/obitdisplay.html?id=673531