Walker, Professor of Anthropology Emeritus, Dies at Age 82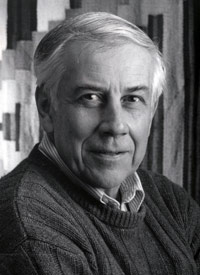 Willard B. Walker, professor of anthropology emeritus, died May 23 in Skowhegan, Maine. He was 82 years old.
Walker was one of the mainstays of the Anthropology Department for more than two decades. He came to Wesleyan in 1966 as an assistant professor, where he and Dave McAllester established anthropology as a department. A specialist in Native American languages and cultures, Walker taught courses on the ethnography of the southwest, the southeast, and the northeast and he also single-handedly maintained a curricular focus on linguistic anthropology.
His research interests ranged from Zuni phonology and semantics to the cryptographic use of Choctaw, Comanche and Navajo by the U.S. military in World War II. He was a dedicated fieldworker whose projects had applied as well as theoretical aspects. He was particularly interested in native literacy movements and their reception in different communities. He compared the embrace of literacy in the native language among Cherokee to the notable resistance such movements encountered among the Zuni and the Pasamoquoddy of Maine.
In the latter case, he participated in designing the writing system and taught native literacy classes, which proved highly popular and yet singularly ineffective; specifically, he found that while the Pasamoquoddy enjoyed seeing their language graphically represented, they mistrusted native literacy as a constraint on oral creativity and thus a threat to the vitality of their cultural heritage.
After Walker retired from Wesleyan in 1989, he and his wife Perch moved to Canaan, Maine, where he continued to do research and to write, while also tending his beloved trees.
In lieu of flowers, memorial contributions may be sent in Walker's memory to the Canaan Public Library Building Fund, P.O. Box 28, Canaan, ME 04924 or to the Somerset Animal Shelter, P.O. Box 453, Skowhegan, ME 04976.