NEA Supports Orchestra Director's Ensemble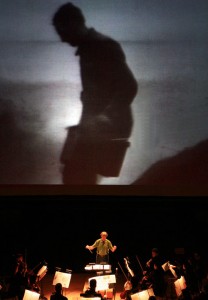 With a boost from National Endowment for the Arts, Angel Gil-Ordóñez's Washington DC-based orchestra will continue making music for seasons to come.
Gil-Ordóñez, music director of the Wesleyan Orchestra, adjunct professor of music, director of private lessons, chamber music and ensembles, learned that his Post-Classical Ensemble received a $50,000 grant from The National Endowment for the Arts (NEA). The award is made possible through the American Recovery and Reinvestment Act of 2009.
"We are still jumping for joy," Gil-Ordóñez says. "It is such an honor, and reassurance that the NEA and the Recovery Act consider that our work must be assured continuity."
Gil-Ordóñez and artist director Joseph Horowitz founded the orchestra in 2003. Concerts incorporate folk song, dance, film, poetry, and commentary in order to serve existing audiences hungry for deeper engagement, and to cultivate adventurous new listeners.
Funds will go towards paying orchestra musicians and orchestra staff salaries.
"These funds are indeed much needed precisely this season, in which for two of the main programs we are our own presenters at our new home, The Harman Center for the Arts, downtown DC," Gil-Ordóñez says.
The NEA is awarding $19.8 million in one-time grants under the Recovery Act to the state arts agencies and regional arts organizations to support the arts sector of the economy. Recipients include organizations in the performing, visual, and literary arts.
The NEA is a public agency dedicated to supporting excellence in the arts, both new and established; bringing the arts to all Americans; and providing leadership in arts education. Established by Congress in 1965 as an independent agency of the federal government, the NEA is the nation's largest annual funder of the arts, bringing great art to all 50 states, including rural areas, inner cities, and military bases.