Zeilinga de Boer Author of Book on Geology's Influence on Connecticut Culture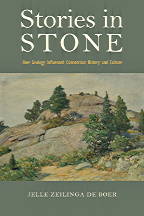 Jelle Zeilinga de Boer, the Harold T. Stearns Professor of Earth Science emeritus, is the author of Stories in Stone: How Geology Influenced Connecticut History and Culture published by Wesleyan University Press in July 2009.
In the 228-paged book, geoscientist Zeilinga de Boer describes how early settlers discovered and exploited Connecticut's natural resources. Their successes as well as failures form the very basis of the state's history: Chatham's gold played a role in the acquisition of its Charter, and Middletown's lead helped the colony gain its freedom during the Revolution. Fertile soils in the Central Valley fueled the state's development into an agricultural power house, and iron ores discovered in the western highlands helped trigger its manufacturing eminence. The Statue of Liberty, a quintessential symbol of America, rests on Connecticut's Stony Creek granite. Geology not only shaped the state's physical landscape, but also provided an economic base and played a cultural role by inspiring folklore, paintings, and poems.
Illuminated by 50 illustrations and 12 color plates, Stories in Stone describes the marvel of Connecticut's geologic diversity and also recounts the impact of past climates, earthquakes, and meteorites on the lives of the people who made Connecticut their home.
The book is available online from The University Press of New England.