Elia Kazan Centennial Celebrated with Film, Gallery Exhibit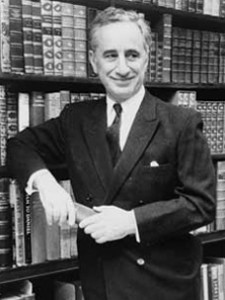 If you want to study the life and work of Elia Kazan, "you come to Wesleyan."
That's what Jeanine Basinger, chair and the Corwin-Fuller Professor of Film Studies, curator of the Cinema Archives, suggests to students or film fanatics in the community. For more than two decades, screenwriter/director Kazan (1909-2003) had ties with Wesleyan, and donated photographs, scripts, personal letters, and other life documents to the university.
To celebrate and honor Kazan on what would be his 100th birthday, the Film Studies Department is hosting the Elia Kazan Centennial. The semester-long retrospective includes 11 Kazan film screenings with introductions, a gallery exhibit, a course titled "Celebrating Elia Kazan" and additional related events and speakers.
All showings begin at 8 p.m. every Thursday through Dec. 3. at the Center for Film Studies. The exhibit will be open from 7 to 8 p.m. in the adjacent Rick Nicita Gallery prior to the screenings. The exhibit materials from the Wesleyan Cinema Archives' Elia Kazan Collection.
"It's appropriate as his official archive, that Wesleyan honor his Centennial," says Basinger, who had a personal tie to Kazan. "Mr. Kazan and I had a mutual interest in film and theater and became good friends. He loved my students and spent a lot of time working with them and visiting our classes."
Elia Kazan was born on Sept. 7, 1909 in Istanbul, Turkey, and moved to America at the age of 4. From his first work with the Group Theatre in the 1930s, through his Broadway collaborations with such playwrights as Tennessee Williams and Arthur Miller in the 1940s and 1950s, to his motion picture work, to his ultimate career as a novelist in the 1980s, Kazan defined what it meant to be an American artist.
Kazan defined a new era of performance style, directing Marlon Brando, James Dean, Montgomery Clift and Warren Beatty.
In the late 1960s, Kazan donated several writings and scripts to Wyman Parker, head of Olin Library. The papers, which later became the Elia Kazan Collection, were turned over to the Wesleyan Cinema Archives. Kazan designated Basinger as the curator.
"We met several times to discuss how he wanted them handled," Basinger says. "It really is an amazing, complete record of his life. We have working documents and detailed records of what he did and what he thought about in the 30s, the 40s, 50s, 60s and 70s in America."
Kazan died Sept. 28, 2003 in Manhattan at the age of 94. Kazan received many honors in his lifetime, among them two Academy Awards as Best Director (for On The Waterfront and Gentleman's Agreement), three nominations, and an Honorary Oscar in 1999 that recognized his lifetime achievement and his dominant presence in the motion picture medium.
As part of the Centennial, Wesleyan University Press is publishing a book tentatively titled Kazan Revisited. Due for release in a year, the book will include a collection of essays from scholars around the country. Lisa Dombrowski, associate professor of film studies, is the publication's editor. Basinger and Scott Higgins, associate professor of film studies, are among the contributors. Each author will examine a part of Kazan's life or an individual film he directed.
Upcoming Elia Kazan Centennial screenings are:
Splendor in the Grass (1961), starring Warren Beatty, Natalie Wood, Pat Hingle and Phyllis Diller will be screened on Nov. 19. The 124 minute film will be introduced by Steve Collins, assistant professor of film studies.
The Last Tycoon (1976), starring Robert De Niro, Tony Curtis, Robert Mitchum, Jeanne Moreau, Jack Nicholson and Anjelica Huston will be screened Dec. 3. The 125 minute film will be introduced by Marc Longenecker.
The Elia Kazan Centennial is made possible with support from the Connecticut Commission on Culture and Tourism, the Middlesex Chamber of Commerce, and the Middletown Downtown Business District. All screenings are open to the public and free of charge. For more information, contact Joyce Heidorn at 860-685-2220 or David Laub at 860-685-2125.