Draper '12 Interns at Cannes Film Festival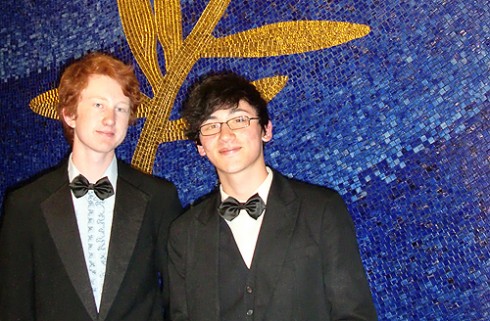 For 15 days, Nathaniel Draper '12 mingled with top filmmakers at the Cannes Film Festival while participating in educational workshops, seminars, pitch sessions, roundtable discussions and screenings. He also happened to pick up an award for a film of his own while he was there.
As a student intern at the 62nd annual Cannes Film Festival, held May 13-24 in southern France, Draper had a hands-on opportunity to explore the film industry through the prism of perhaps it most prestigious international event.
"It was, to put it lightly, a surreal experience," Draper recalls. "I was able to meet iconic directors such as Martin Scorcese and Francis Ford Coppola, and found myself interacting with actors and directors such as Inglorious Basterds' Eli Roth."
Draper applied for the internship though the American Pavilion Student Filmmaker Program at Cannes, which is the festival's center for American film and filmmakers.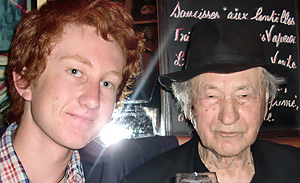 The internship program included a three-day pre-Festival orientation and tour of Cannes, including workshops and seminars on the business of filmmaking; nightly festival premiers; roundtable discussions with industry professionals; and an opportunity to network with industry insiders and observe the business of filmmaking firsthand.
"I was granted full festival accreditation–basically a carte blanche to go anywhere in the festival, which allowed me to interact with filmmakers, explore the Cannes film market, and essentially network with the incredibly array of industry professionals that were there," Draper says. "I took part in panel discussions ranging from screenwriters to the screen actors guild to premier directors."
It wasn't uncommon for Draper to casually walk by legendary filmmakers like Quentin Tarantino, Wong-Kar-Wai and Palme d'Or winner Mikael Haneke, or to walk the red carpet of Cannes premiers next to the actors and directors of the films, he says.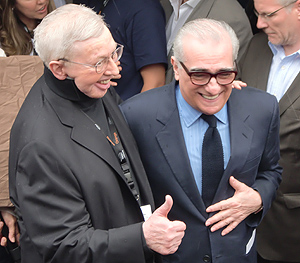 "It was an open door to the highest level of international cinema, but the experiences were not handed to you. It was up to you to make of it what you will," he says.
This internship/educational program is highly competitive. To apply, Draper answered essay questions, submitted a college transcript, a resume, a letter of recommendation from a professor and another letter from an employer. A phone interview followed the initial application.
"An internship can provide a hands-on experience that complements the Wesleyan academic experience in unique ways that makes it so important for students to seek out opportunities like this," says David Phillips, dean for the class of 2012.
While at the festival, the American Pavilion hosted a viral-video competition sponsored by FLIP video.
"We were given these little camcorders and told to go make videos 'reporting' on the experience at the festival. What I made was a short titled 'One Night at Cannes,' exhibiting the ludicrous experiences of one night at the festival, and just kind of put it together in an afternoon," he says.
Draper's video ended up winning the competition, for which he was awarded a glass plaque, a camcorder and publicity about his award.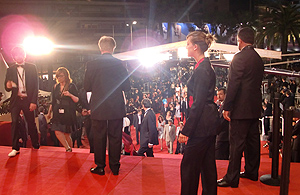 Ironically, one of Draper's most memorable experiences to come out of the festival happened in Paris, where, through friends and connections made at the festival, he met up with famed avant-garde filmmaker Jonas Mekas.
"I spent about a week with him and a close group of very talented avant-garde filmmakers based all over the world, getting to know them well, working with them at Jonas' Art opening, and making strong and lasting connections with some very important figures in international cinema," Draper says. "It was quite an experience, and with all that I learned from it, I'll likely be returning to Cannes this coming summer to tackle the festival on my own."