Deb Olin Unferth: New English Department Faculty Member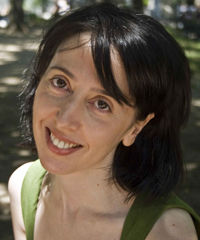 Deb Olin Unferth has joined the Department of English as assistant professor. She specializes in fiction writing, innovative literature, the short story and the novel.
She says she was attracted to Wesleyan because of its well-known writing program.
"Wesleyan is a fantastic liberal arts school," Unferth says. "I am very excited to be here. I am enjoying my classes immensely. The students are excellent—in ability, focus, creativity, intelligence, and temperament."
Unferth has a B.A. in philosophy with distinction from the University of Colorado, where she was Phi Beta Kappa. In 1998, she earned her M.F.A. in creative writing from Syracuse University.
Unferth's debut novel Vacation was published by McSweeney's in October 2008. The book garnered her the Virginia Commonwealth University Cabell First Novelist Award for 2009.
Locations included in the book are Manhattan, Syracuse, and Nicaragua (places that Unferth says she knows well). Vacation could be described as being "about leaving–about all forms of departure," she says.
Unferth's first book received several positive reviews and the Village Voice called Vacation a "dreamy, surreal debut novel … at once precise and startling."
Additionally, her story "Wait Till You See Me Dance" was published in the July 2009 issue of Harper's. Unferth's collection of stories called Minor Robberies, was published by McSweeney's in 2007.
Unferth lives in New Haven, Conn. Next semester she will be teaching an advanced fiction writing workshop and a literature class called "Poetics of the Short Short" about the very short story.