Parents, Alumni Celebrate Homecoming/Family Weekend with Students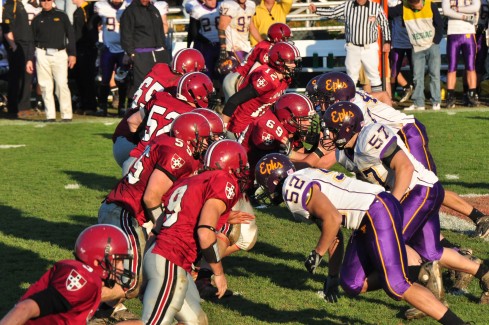 More than 5,000 parents, alumni and friends came to campus Nov. 6-8 to celebrate Homecoming/Family Weekend. This year's theme was "Come Home!" Event photos are posted on the HCFW website.
"Every year, I hear from alumni, parents and students that Homecoming/Family Weekend gets better and better," says Gemma Fontanella Ebstein, associate vice president for external relations. "We had a terrific turnout this year and the energy was palpable across campus – in the WESeminars, athletic contests, department anniversary celebrations and other special gatherings throughout the weekend. This has become one of the highlights of the year for the Wesleyan community."
The weekend began Friday, Nov. 6 with tours of campus, sessions for parents, department open houses, the Athletics Hall of Fame ceremony and dinner, an all-campus dinner, a concert by Eilen Jewell and the Sacred Shakers, a fall senior thesis dance concert and several WESeminars. Interactive and inspiring, WESeminars provide opportunities to revisit the classroom and attend presentations by scholars, pundits, and other experts in their fields.
The College of Letters and the College of Social Studies both held their 50th Anniversary celebrations.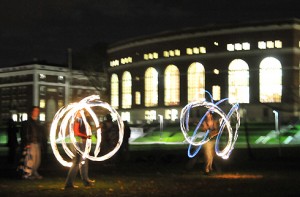 On Saturday, Nov. 7, campus guests attended the annual Where on Earth are We Going? Symposium, rowing instructions with Wesleyan's crew team, a family swim, WESeminars on dance, study abroad projects, the history of Wesleyan, and international journalism.
Deana Hutson, director of events, estimates that 5,000 fans showed up for tailgating, the homecoming football game and the NESCAC men's soccer semi-finals. The day wrapped up with several other athletic events, a community bike ride, the Dwight L. Greene Symposium, the Reed Labyrinth Opening and a concert with Amy Crawford '05.
A Fall Harvest Brunch and the Alumni Association Executive Committee meeting kicked off events on Sunday, Nov. 8. The day also included a legacy gathering and photo of current students posting with parents or grandparents that are Wesleyan alumni, a celebration of Western Art Music and a student A Capella Concert.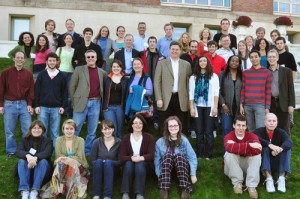 Gabriela De Golia '13 spent the event-filled weekend with her parents, Jim De Golia and Terri Hanagan of San Francisco; her uncle, Jose Hanagan of Reno, Nevada; and her brother, Nicolas, who goes to high school in France. Together, the family saw the Wesleyan screening of Matt Tyrnauer '91 Valentino: The Last Emperor, attended the Labyrinth opening in honor of Joe and Kit Reed, the Amy Crawford concert on Saturday night,  a panel discussion on how parents can help students achieve academic success, a lecture on the role of public opinion in foreign policy, the Homecoming football, soccer and ice hockey games and swimming meet. In addition, Hanagan P'13 worked as a parent volunteer at Usdan University Center.
"It was a wonderful opportunity to meet many other parents, a great many of them new (as I am) to Wesleyan," Hanagan says. "I also met many of Gabriela's new friends and colleagues, which was especially important to me. It gave me a great sense of comfort to see that she has so many kind, fun and intelligent new friends."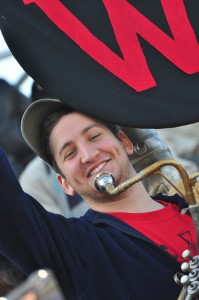 President Michael Roth also led a Sunday morning address to parents. He laid out his near and long term views for enhancing the overall student and academic experience at Wesleyan, making a strong case for the benefits of the entire Wesleyan experience and the need to provide increased financial aid to those strong candidates for admission whose ability to become members the student body would be prevented due to lack of financial means.
"As a person who has seen firsthand the benefits that my children have gained from being routine exposure to diversity on virtually all levels and all types, I found particularly attractive his passion for increasing the geographic and other diversity of the student body and for more effectively removing financial barriers to attending Wes," De Golia P' 13 says.