Valentino '10 Teaches High-Potential, Low-Income Students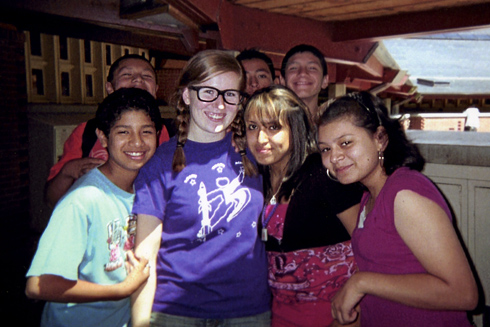 For 12 weeks last summer, Lauren Valentino '10 taught underprivileged rising 9th graders how to speak French and read Hamlet – all while most of her students were still learning English as a second language.
Valentino was in Denver, Colo., working with residents who had recently moved to the U.S. from Ethiopia, Afghanistan, Eritrea, Kenya, Mexico and Columbia, to name a few.
"One student was a refugee from the Ivory Coast and had no formal schooling until three years ago," says Valentino, a sociology and French major. "He was one of my brightest kids."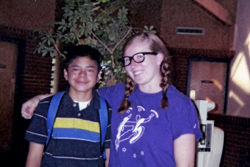 As a student-teacher working at the Breakthrough Collaborative location in Denver, Valentino, who is from Charlotte, N.C., had the opportunity to work with high-potential, low-income middle school students. More than 80 percent of Breakthrough student alumni are accepted to college preparatory programs.
Valentino applied for the highly selective student-teaching internship while studying abroad in France during the spring 2009 semester. From May 31 through mid-August, she worked 11-hour days, excluding time devoted to lesson planning.
The teachers also shared lunch and playtime with their students.
"Most of the students will be the first person in their family to go to college," says Valentino, who also mentors a student through the North End Action Team. "They value education. They have perspectives about education that most public school children don't have."
Christine Capeless, executive director of Breakthrough Denver, says more than 135 applicants applied teaching spots last fall. Of those, 65 were interviewed. Valentino was one of only 15 students to be selected as a Breakthrough teacher.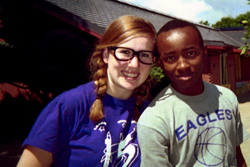 "Our competition is highly competitive," Capeless says. "The ideal teacher at Breakthrough comes from an academically rigorous high school or college, is passionate and dedicated to education has an understanding of urban youth and education and would like to pursue a career in education. We really evaluate the entire applicant as match to our program, students and community. "
In addition to teaching the rigorous summer sessions, Valentino and fellow teachers were expected act as liaisons between the school and students. They made weekly calls to parents to inform them about their child's progress.
"It was very challenging to make these calls, because many of the parents didn't speak English," Valentino says. "Fortunately some of the teachers spoke other languages, so I could call parents and speak French to them, and other teachers could call and speak Spanish."
Valentino helped set-up an informational guide about the different types of colleges, and ran a seminar on college and career planning. She'd play games with the students, and hosted a "Tour de France" race for the French class. Winners were awarded yellow t-shirts adorned with puff-paint.
"My students were so fun to teach. It was effortless because they loved learning so much," Valentino says. "Especially with French, they were like sponges. I'd walk down the hall and hear a couple students reciting the months in French. They loved learning, and we ran the program with the intention that learning is fun and it's OK to be smart."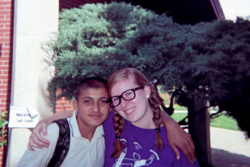 She also had the opportunity to connect with Wesleyan alumnus Dave Bryson '99, who is a teacher network specialist at the Breakthrough Collaborative in San Francisco. Bryson supports the National Program Team in recruiting, training, and building an alumni network of Breakthrough Teachers.
Valentino, who is writing her senior thesis on internships, is applying for a 2010-11 English Teaching Assistantship through the French and U.S. governments. Afterwards, she plans on attending graduate school and becoming a sociology professor – at Wesleyan.
"Breakthrough allowed me to have a classroom teaching experience while interacting with a population that I wouldn't have contact with otherwise," Valentino says. "I think about my students every day. They have changed my life and I feel lucky to have had the opportunity to hopefully change theirs."