Eye-Tracking Study Reveals How People Make Decisions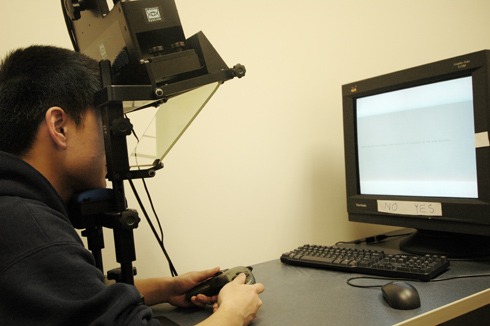 To determine the difference between a decisive and an indecisive person, follow the movements of their eyes.
Andrea Patalano, associate professor of psychology, and Barbara Juhasz, assistant professor of psychology, have collaborated on research examining how decisive and indecisive people differ in their processing of information, which is a little-studied area.
Their full findings are scheduled to be published in the near future, and both researchers are excited about what they found.
Patalano has spent many years studying decision-making while Juhasz has spent time tracking readers' eye movements using a device called an eye-tracker. Since the researchers were examining the individual differences between how decisive and indecisive people search for information, they were forging new ground.
Juhasz's EyeLink 1000 eye-tracking machine (SR Research Ltd), housed in her Eye Movement and Reading Lab at Wesleyan, provided Patalano with the equipment she needed to validate prior assumptions and record precise eye movement data.
"I've been using the eye movements to study reading and it's very helpful there," Juhasz says. "I've always had the idea that it would be helpful to use when studying these higher-level cognitive processes. But to be able to see that you can observe individual differences in people's decision-making strategies was interesting."
These individual differences are what matter to Patalano.
"There's a lot of uniformity in the way people read," she says. "When people are making decisions, there's a lot more variation in behavior."
Research suggesting that indecisive individuals utilized more information when trying to make a decision compared to decisive individuals. However, there had been conflicting findings reported in the scientific literature. The two researchers decided to look at the issue more closely themselves using an eye-movement study
For the study, 54 Wesleyan students were studied as they completed a hypothetical course selection activity. Patalano had asked subjects do course selection tasks in the past. Originally, she used a paper-based exam and transferred the test to a computer, but there was no precision eye-tracker involved in the data sampling.
For the eye-tracking course selection study, the course titles and attributes were placed on a grid and the EyeLink 1000 machine sampled participants' eye positions every millisecond as the selection tasks were done. The data were captured and recorded.
Students were told to imagine that they had one course left to select in order to complete their class schedules and all of the presented classes would fit into their weekly schedule. Participants had to choose among five courses, labeled Courses A through E and these courses differed on the following qualities: Meeting Time, Instructor Quality, Amount of Work, Usefulness for Goals and Interest in Topic. The courses were similar in quality and the students could only pick one course. One group of participants was allowed to delay their choice while another was not given that option.
After the participants completed the course selection task, they rated themselves on a standard indecisiveness scale.
It took just under two years for Patalano, Juhasz, and undergraduate research assistant Joanna Dicke '10 to complete their groundbreaking research. And that was not because they were indecisive. There were simply so much data to evaluate.
The results of the study suggested three major findings.
First, there was a difference in the way people scanned the information. While decisive people narrow down a decision based on a particular attribute, indecisive people take in all of the information. Decisive people might say that all of these courses have good and bad attributes, but they selected an attribute that was most important; indecisive people saw that all information had some good and bad points.
Secondly, indecisive individuals divided their time over a greater number of attributes of their course. The decisive participants focused on fewer attributes in order to make their decision. Interestingly, indecisive individuals spent more time overall looking at nothing, that is, they looked at the blank cells in the grid while (apparently) trying to make a decision. The researchers were not sure why the indecisive individuals spent more time looking at blank spaces, but theorized that doing so allowed them to ruminate or reframe their choices before making a decision.
Patalano said that applying eye tracking to decision-making research was a relatively new methodology for individuals who study how people come to final conclusions on things like buying a car, choosing an insurance plan or selecting a college course.
This research and subsequent studies could lead to the creation of strategies to assist people who far too often struggle with decision-making.
To read the entire journal article, titled "The Relationship Between Indecisiveness and Eye Movement Patterns in a Decision Making Informational Search Task" from The Journal of Behavioral Decision Making go here.