Gillian Goslinga: New Faculty Member in Anthropology, Science in Society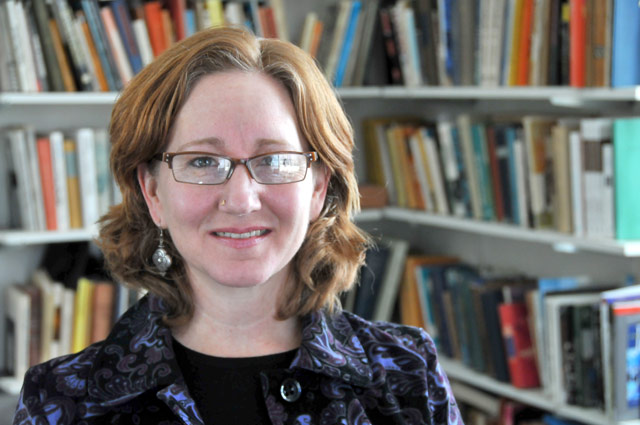 Gillian Goslinga has joined the Anthropology Department as an assistant professor of anthropology. She also is an assistant professor of Science in Society.
A graduate of the University of California at Santa Cruz doctoral program in the History of Consciousness, Goslinga was attracted to Wesleyan for many reasons, including "the school's progressive ethos and the 'scholar-teacher' pedagogical model."   She says teaching is one of her passions.
"The anthropology department is committed to cutting edge theory-cum-praxis," Goslinga says.
She says she appreciates the combination of theoretical innovation and creativity and serious intellectual inquiry.
"That made an impression," she explains. "People at Wesleyan seemed genuinely supported and supportive as well as encouraged to break new ground with their scholarship.  I was at once attracted to the intellectual rigor and creativity, and how happy everybody seemed to be.  The students I met also made a deep impression.  They were so willing to reach for ideas and debate."
Goslinga's research specialties include kinship and the reproductive technologies, spirit possession and ritual, epistemologies of embodiment, feminist science studies and feminist ethnography.   "I worked in a village South India primarily, though my first academic project was in the U.S.," she says. "I followed the relationship between two "mothers" in a gestational surrogacy arrangement in Los Angeles."
For her Ph.D. studies, Goslinga returned to South India where she had done work as an undergraduate. Her intent was to grasp the materiality of 'virgin birth" claims that a South Indian god Pandi literally brought about conception in women.  "What was the experiential or empirical basis for these claims?" she wondered. "What kind of 'natural' fact is a Pandi-assisted conception?" 
"I also did a concurrent ethnography of a state-of-the-art infertility clinic down the road from this god's temple," Goslinga says. "The project was ultimately about the borderlands between modernity and so-called 'tradition,' and the way the reproductive technologies and the 'superstition' of gods who give boons of children are playing into the region's emergent modernity and also beyond, for example in the already-modern discourses of academia."
She says her interests extended to questions of ontology and metaphysics, and the social and cultural processes that make some 'facts' seem more real than others in given socio-historical contexts.  She says her work draws inspiration from recent work on 'nonhuman' agency in science studies.
"You could say my broadly stated research interest is the politics and poetics of incommensurable knowledges," Goslinga explains. "My basic argument is that social phenomena like spirit possession, shamanic healing, or virgin birth beliefs are produced as ontologically incommensurable from certain modern standpoints. My interest and curiosity is to understand how this rendering incommensurable and subaltern happens and what might be gained from engaging these realities on different terms, face to face."
Goslinga's recent essay, titled "Embodiment and the Metaphysics of Virgin Birth in South India: A Case Study," is slated for publication this year in Summoning The Spirits, edited by Andrew Dawson and published by I.B. Tauris. She is completing her third ethnographic film, The Poojari's Daughter.
"This hour-long documentary chronicles the unusual South Indian priestess Rajathiammal during a remarkable ritual of animal sacrifice that she performs annually.  The film follows her as she negotiates gender and familial dynamics, and also the American public she knows will likely be shocked and disbelieving about her performance," she says.
Goslinga lives in Middletown and spends time with her two horses, Feather Spirit and Lady Luna, who are boarded just outside of town, at Daniel's farm.