Allbritton Center Honored with Gold Certification for Sustainable Practices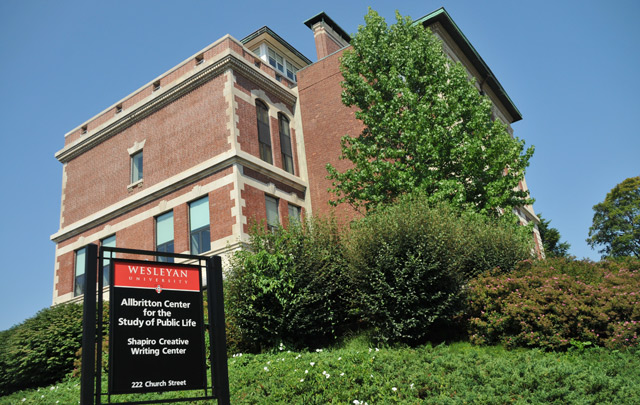 Wesleyan has reached the gold standard in sustainable structures.
On March 15, the U.S. Green Building Council awarded Wesleyan's newly-renovated Allbritton Center for the Study of Public Life building a Gold Certification based on the Leadership in Energy and Environmental Design (LEED) standards.
LEED is an internationally-recognized green building certification system that verifies that a building or community was designed and built using strategies aimed at improving performance across all the metrics that matter most: energy savings, water efficiency, CO2 emissions reduction, improved indoor environmental quality, and stewardship of resources and sensitivity to their impacts.
"The Gold Certification demonstrates Wesleyan's commitment to sustainable design, operation and maintenance of its buildings," says Alan Rubacha, construction services consultant for the center. "From the salvage and reuse of existing materials, to the design and specification of new materials and even into the site design, LEED was consulted for every decision."
The Allbritton Center, formerly the Davenport Campus Center, was a nine-month renovation project completed in August 2009.
LEED awards points based on site selection, public transportation access, roofing materials, light pollution reduction, energy performance, refrigerant management, recyclable collection, building reuse, building materials, environmental and air quality, ventilation and other environmental factors.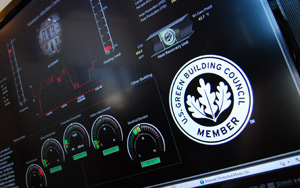 A basic LEED certification is awarded with a minimum of 26 points. The Allbritton Center received 43 points to earn a gold rating.
During the construction phase, Wesleyan was able to divert 303.84 tons, or 83.5 percent, of on-site generation construction waste from the landfill. Most waste was sent to receiving agencies to be recycled.
When rebuilding, 11 percent of the total building materials used were manufactured using recycled materials. In addition, almost 84 percent of the total wood based building materials are harvested from forests certified by the Forest Stewardship Council.
Most material used in this project adheres to the U.S. Environmental Protection Agency's limits on volatile organic compounds (VOC). Composite wood and agrifiber materials used on the project contain no added urea-formaldehyde. Paints and coating products comply with "Green Seal" standards. Carpet and carpeted cushions comply with the Carpet and Rug Institute's Green Label Plus Program, which ensures that customers are purchasing among the lowest emitting carpet, adhesive and cushion products on the market. The building also uses low-flush toilets resulting in a 46.4 percent water reduction.
LEED also awarded the center points for its location close to bus lines and devoting two parking spaces for low-emitting and fuel efficient vehicles.
Unique to Allbritton is its mechanical system. All of the air delivered to the space is fresh air that passes through a heat recovery device that recovers the energy from the exhaust air.
"Allbritton does not re-circulate any air," Rubacha explains. "It was designed to have the best indoor air quality as a building can have."
The Allbritton Center, named after Robert '92 and Elena '93 Allbritton; Mr. Allbritton is also a Wesleyan Board of Trustee member. The Allbritton Center was dedicated in September 2009. The original structure was completed 1904 and was redesigned in 1984 as Davenport Student Center. It ceased to be used as a student center in 2007 with the opening of the Usdan Center. The renovation of the building began soon after that.
The Fauver Field Residence Halls also have a LEED Basic Certification.
More information on the Allbritton Center is online at:
https://newsletter.blogs.wesleyan.edu/2009/10/08/allbritton-center-unveiled-at-ribbon-cutting-ceremony/
https://newsletter.blogs.wesleyan.edu/2009/03/25/davenport-to-re-open-with-public-life-writing-centers/