Faculty Collaboration of Art, Words, Spans Decades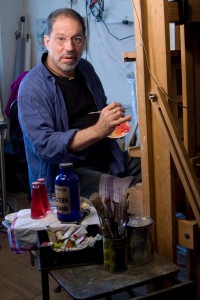 One works in translating languages; the other translates words into images. Together they are about to take audiences through a centuries-old world of lechers, louts and libertines, among others.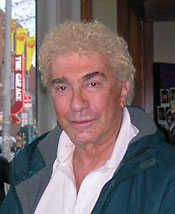 Norman Shapiro, professor of romance languages and literatures, and David Schorr, professor of art, have been collaborating together for more than 20 years to bring ancient French verse and tales to life for an English-reading audience. Their most recent effort is a re-issue, La Fontaine's Bawdy: Of Libertines, Louts, and Lechers (2009 by the Black Widow Press), a book they will be discussing and signing at on May 5 at Broad Street Books in Middletown at 4:30 p.m.
The two professors have Wesleyan to thank for their partnership, having first met when they both arrived on campus in the 1970s. Shapiro calls Schorr "the ideal person" to illustrate his translations. Schorr's expressive animal illustrations, including versatile woodcuts, sumi-e drawings, and line drawings, bring the tales to life.
"David's illustrations are wonderful," Shapiro says. "They are not stodgy and he has a way of looking at the fables and book pages with a different eye."
It is a knowing compliment. Both translation and illustration require an eye for detail as well as creativity.
Shapiro began translating in high school, where he won a prize for a Latin translation. Since those early days, both his peers and literary critics have lauded his work. The American Literary Translators Association awarded Shapiro the 2009 National Translation Award for French Women Poets of Nine Centuries. His Four Farces by Georges Feydeau, was nominated for the National Book Award for Translation and his work One Hundred and One Poems by Paul Verlaine won the Scaglione Translation Prize from the Modern Language Association. Additionally, The Complete Fables of Jean de La Fontaine also received the Lewis Galantière Prize by the American Translators Association in 2008.
Yet, translation is not an exact science. Every line in French is not replicated word-for-word in English. Differences in tone and implication have to be accounted for, as well. Shapiro compares it to putting together a puzzle, albeit artfully.
Shapiro also loves translation for its combination of its total freedom and total responsibility to the original text. He also credits his mother – a talented poet in her own right – for inspiring in him a love of poetry and an inclination toward the sounds of the French language.
Still, even with all his experience, he can still be daunted by a new work.
"I've thought, I'll never be able to translate that," Shapiro says of the occasional challenging poems he encounters.
And yet sooner or later he finds the right words.
Schorr also is methodical in how he approaches illustrating Shapiro's poems. He first looks through all of the individual poems to see which ones are visually appealing or lend themselves to interesting illustration. Then he makes sure that he places the images throughout the book, not clumping them all together, which is often done.
"La Fontaine and Baudelaire both get re-translated and re-illustrated in every generation." Schorr says. "Gustave Dore's wonderful illustrations seem to fit the language of his 19th century translators. I try to make my illustrations as witty as Norman's translations."
Because he insists on designing the books he illustrates, Schorr also takes pains to format the layout in such a way that facing pages complement or play off each other. He is careful to craft the design so none of his drawings crash into the book's spine. His designs also integrate font choices that reflect the work, such as the use of the 17th-century-era Galliard for the 17th-century writer La Fontaine.
Although many of the books Schorr illustrates are printed in a single color, which can minimize some of the richness in his original prints, he is familiar enough with the book production process to make the two-dimensional art come to life.
"These books are invariably one-color productions so the trick is using drawing or printmaking media like sumi-e or woodcut which are shown to full advantage when reproduced," Schorr says. "The Baudelaire was an exception. I felt these had to be intaglio prints – combinations of etching-engraving mezzotint and acquaint to catch the blackness and mystery of the writer's time and the tone of his poetry. The solution was to produce a fine edition of the originals, which sold to museums and library rare books collections."
The two professors first worked together on The Fabulists French: Verse Fables of Nine Centuries (1992 by the University of Illinois Press). They have since done Fifty More Fables and Once Again by La Fontaine, Baudelaire's Les Fleurs du mal, and The Complete Fables of La Fontaine, among other publications.
"Norman and I often refers to ourselves as Gilbert and Sullivan, he being Gilbert," Schorr says. "I always add that Gilbert was the genius, Sullivan a hack."