Student Athletes Receive Wesleyan's Scholar-Athlete Award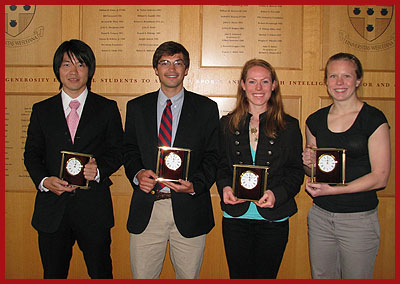 Keisuke Yamashita '10 of Yokahama, Japan; Jory Kahan '10 of Norwich Vt.; Clare Smith '10 of Lexington, Mass.; and Beth Kenworthy '10 from New York, N.Y., were named the recipients of Wesleyan University's Roger Maynard '37 Memorial Award for the 2009-10 academic year.
The award is presented annually to the outstanding male and female scholar-athletes in their last year of eligibility. Yamashita, Kahan, Smith and Kenworthy represent the finest combination of athletic accomplishment and academic achievement at Wesleyan.
Kahan and Yamashita were starters on the 2009 men's soccer team that posted the first undefeated regular-season since 1940 and set a school record for longest unbeaten streak (15 games), going 11-0-4 before dropping its NESCAC semi-final game to Middlebury. Receiving an at-large bid to NCAA Division III tournament, the team's third NCAA appearance in the last five years, the Cardinals advanced to the round of 16 before falling to Rochester in a sectional semi-final at Messiah in double-overtime.
Kahan, a team tri-captain in 2009, was a four-year team member and three-year starter on defense while Yamashita played for four years as well with three seasons as a starter on offense. In 2009, Yamashita, who was also named a second-team District I CoSIDA/ESPN the Magazine Academic All-American, led the Cardinals in scoring with five goals and five assist for 15 points. Over his career, he amassed 13 goals and five assists for 31 career points while leading the team in points in both 2007 and 2009. He also had one of the fastest hat tricks in NCAA Division III history when he put home three goals in a span of 3:30 during a victory at Springfield in 2008. A combination mathematics/economics major, Yamashita carries a cumulative GPA of 3.84.
Kahan was a first-team District I choice by CoSIDA who went on to earn second-team Academic All-America laurels, the only player from a NESCAC college to receive national recognition from CoSIDA. Starting 44 of 49 games between 2007 and 2009, Kahan was one of the defensive backbones for a team that led the NESCAC in goals-against average this past season, yielding less than half a goal a game. Kahan also contributed to the attack with a goal and an assist this year, giving him three goals and two assists over his four years. In addition to his contributions in soccer, Kahan supported the winter athletic scene at Wesleyan as a play-by-play broadcaster during basketball and ice hockey webcasts. Kahan, who majors in neuroscience and behavior, holds a 3.82 GPA.
Coming to Wesleyan as a junior transfer from Columbia University, where she played lacrosse for two years, Smith was an immediate starter on defense for the Cardinals and has played and started each game since she arrived. In 2009, despite being a fixture on defense, Smith found enough time in the offensive box to net seven goals and through nine games in 2010, has added a goal and an assist to her scoring totals. Enrolled in Wesleyan's demanding Science in Society Program, Smith maintains a 3.93 cumulative GPA.
A neuroscience and behavior major at Wesleyan with a cumulative GPA of 3.82, Kenworthy played and started every women's soccer game for the Cardinals over her four years. Playing a majority of her time in a defensive posture, Kenworthy was also used in more offensive positions during her career and collected two goals and seven assists for 11 points including a goals and a team-leading four helpers in 2009. She helped the Cardinals post back-to-back winning seasons for the first time in 15 years as the team went 8-6-1 in 2009 after coming through with a 7-6-1 mark in 2008. During the winter of 2009-10, Kenworthy joined the indoor track team as a sprinter and was part of the Cardinals' all-New England Division III 4x400m relay squad.
All four scholar-athletes received academic all-NESCAC honors each season they were eligible during their careers.
Yamashita, Kahan, Smith and Kenworthy were honored at a luncheon April 9 in support of National Student-Athlete Day, an annual NCAA event.