Memoirs, Germs, Brownstone Topics of Spring WILL Courses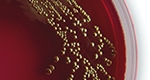 This spring, students of all ages will have the opportunity to see dinosaur tracks in Connecticut, discuss emerging infections, explore retirement planning options, or examine emotions, traits and institutions that promote healthy psychological functioning.
These course topics, among others, will be taught through The Wesleyan Institute for Lifelong Learning (WILL) this spring.
The course offerings cover the arts, social sciences, literature, science and mathematics. The spring courses include: Legacies in Words: An Introduction to Memoir Writing, Life's Great Transitions and Four Essential Dialogues, Exploring the Mysteries of Finance, Positive Psychology, Life Is But a Dream, Germs Are Us, Brownstone Stories: Quarries and Dinosaurs.
WILL classes are taken for interest, not for credit. Classes are small with an informal atmosphere. Faculty include Wesleyan faculty, faculty emeriti and similarly qualified members of the community. The courses are short, intellectually-stimulating and lively.
Karl Scheibe, director of the Susan B. and William K. Wasch Center for Retired Faculty, is overseeing the institute.
Enrolled students will have access to the academic resources of Wesleyan, including Olin Library. Classes, which cost between $50 and $130, are conveniently scheduled in the afternoons and early evenings.
Most courses will be held in the Wasch Center for Retired Faculty on Lawn Avenue. For more information on the program, e-mail will@wesleyan.edu or call 860-685-3005.