Willis Featured in African American History Calendar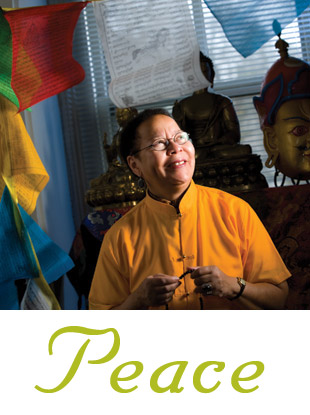 Jan Willis, professor of religion, professor of East Asian studies, is featured in the Aetna's 2011 African American History Calendar. The calendar's theme is "Healthful Blessings: Faith-Based Health Initiatives Making a Difference for African Americans."
Willis's profile on the Aetna web site reads:
As a 10th grader in the '60s, Prof. Jan Willis marched with the Rev. Dr. Martin Luther King Jr. in Birmingham, Ala. That moment, which she often still reflects on, changed her life forever.
"The nonviolence that I witnessed there is echoed in Buddhism," she said. Though she grew up a Baptist, she now practices and teaches Tibetan Buddhism at Connecticut's Wesleyan University. Tibetan Buddhism focuses on three areas of self-reflection – outer, which is physical; inner, which is emotional; and secret, which is spiritual.
"Buddhists wish for happiness for all people," said Prof. Willis. "They live selflessly and practice generosity, reasoning – as King did – that if one of us is unhealthy, we are all unhealthy. We are all responsible for one another."
A teacher, an author, a public speaker and a humanitarian, Prof. Willis said Buddhism gives people space to determine who they are. "We are tough minded but tenderhearted," she said. "Good health comes from giving yourself time."
The calendar is available for $4 by calling 860-273-0509. The online version of the calendar is available at Aetna's diversity website: http://aetnaafricanamericancalendar.com/2011/.