Farmer, Cook, Ibargüen, Shaws Receive Honorary Degrees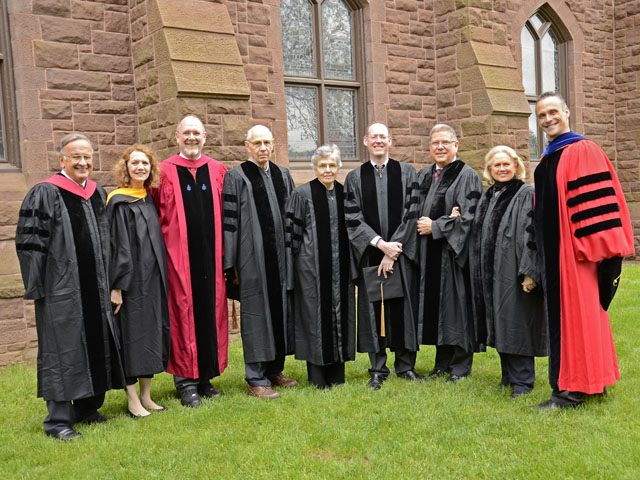 Paul Farmer received a Doctor of Science during the 2011 Commencement. Farmer is an inspirational scholar, doctor, teacher, and leader. As a physician-anthropologist, he has dedicated his life to serving the world's poor and to raising the standard of health care around the world. In 1983 he co-founded Partners In Health, an international nonprofit organization that provides direct health care services and undertakes research and advocacy activities on behalf of those who are sick and living in poverty. His work focuses on community-based treatment strategies for infectious diseases, health and human rights, and the role of social inequalities in determining disease distribution and outcomes. Dr. Farmer and his colleagues have successfully challenged the policymakers and critics who claim that quality health care is impossible to deliver in resource-poor settings.
Dr. Farmer is the Kolokotrones University Professor and Chair of the Department of Global Health and Social Medicine at Harvard Medical School; Chief of the Division of Global Health Equity at Brigham and Women's Hospital; and United Nations Deputy Special Envoy for Haiti, under Special Envoy Bill Clinton. His most recent book is Partner to the Poor: A Paul Farmer Reader. Dr. Farmer has received numerous awards and recognitions, but none so typifies his life and accomplishments as the Heinz Award for the Human Condition, which he received in 2003. "To say that Dr. Paul Farmer is a life saver does not begin to describe the impact of his work," said Teresa Heinz, chair of the Heinz Family Foundation. "Dr. Farmer and his extraordinary organization have been a force in making the world confront the health care needs of those who historically have never had access to proper care."
Barbara Cook received a Doctor of Fine Arts. Cook's pure soprano voice has delighted audiences around the world for more than 50 years. She was considered to be "Broadway's favorite ingénue" during the 1950s and '60s. Her continuing popularity is evidenced by her 1997 birthday concert with the Royal Philharmonic Orchestra at the Albert Hall in London; a succession of six returns to Carnegie Hall, where she made a noteworthy solo concert debut in 1975; and honors including the Tony, Grammy, Drama Desk and New York Drama Critics Circle Awards, as well as her citation as a Living New York Landmark and her induction into the Theatre Hall of Fame.
In January 2006, Ms. Cook made her solo concert debut at the Metropolitan Opera Company, making her the first female pop singer to be presented by the MET in the company's 123-year history. In November 2007, Ms. Cook celebrated her 80th birthday in concert with the New York Philharmonic at Avery Fisher Hall.
Ms. Cook's studio recordings include eight original cast albums; two Ben Bagley albums of songs by Jerome Kern and George Gershwin; an album entitled Songs of Perfect Propriety, featuring poems by Dorothy Parker set to music by Seymour Barab; and As Of Today on the Columbia label. Her most recent DRG recordings include Close as Pages in a Book, featuring the lyrics of Dorothy Fields; Barbara Cook: Live from London; Oscar Winners: The Lyrics of Oscar Hammerstein; All I Ask of You and The Champion Season: A Salute to Gower Champion; the Grammy nominated Count Your Blessings, a collection of traditional Christmas songs; Tribute, based on her sold-out Cafe Carlyle concert; No One Is Alone, based on her most recent Carnegie Hall concert; and the recently released Rainbow 'Round My Shoulder.
Alberto Ibargüen received a Doctor of Laws. He was named president and CEO of the John S. and James L. Knight Foundation in January 2005. In this capacity, he has taken a leadership role in helping journalists everywhere explore new ways of communicating news in a rapidly changing environment brought on by the Internet. He is the former publisher of The Miami Herald and El Nuevo Herald. During his tenure, The Miami Herald won three Pulitzer Prizes and El Nuevo Herald won Spain's Ortega y Gasset Prize for excellence in journalism.
A graduate of Wesleyan University and the University of Pennsylvania Law School, he served in the Peace Corps in Venezuela's Amazon Territory and in Colombia. He practiced law in Hartford, Connecticut, before joining The Hartford Courant, then Newsday in New York.
Mr. Ibargüen is chair of the board of the World Wide Web Foundation, an organization dedicated to advancing the Web as a medium that empowers people worldwide to bring about positive change. He serves on corporate boards and the boards of ProPublica and the Council on Foreign Relations. Over the years, he has served on the boards of arts, education, and civic organizations, including Lincoln Center for the Performing Arts, the Committee to Protect Journalists, Wesleyan University, Smith College, the Trustees' Council of the National Gallery of Art, and as chair of the board for the Newseum. He served as board chair of PBS and of the Florida Philharmonic Orchestra. In 1996, Wesleyan honored him with a Distinguished Alumnus Award, and in 2010, he was the Dwight L. Greene '70 Symposium speaker on campus.
For his work to protect journalists in Latin America as part of the Inter American Press Association, he received a Maria Moors Cabot citation from Columbia University.
Jean Adams Shaw P'79 and Ralph "Biff" H. Shaw II '51, P'79 received a Doctor of Humane Letters.
The Shaws have provided remarkable examples of service to Wesleyan and to the greater Middletown community in a myriad of ways. They have been bridge builders between Wesleyan and the Middletown community, and numerous local organizations have benefited from their dedication.
Jean Shaw P'79 received her B.A. from Skidmore College in 1952, the same year she married Mr. Shaw. She served as an ensign in the U.S. Navy from 1952–53. She began working at Wesleyan as a gallery assistant for the Department of Art in 1969. As events manager and then director of the Center for the Arts from 1974–1999, she helped to establish the center's reputation as a cultural magnet for the University and the state. She then acted as coordinator for Reunion & Commencement from 1999–2002 and as coordinator of the Wesleyan Lecture Series from 1999–2004.
Ms. Shaw has served as president of the Friends of the Davison Art Center. She was a member of the Wesleyan Landmarks Advisory Board for more than two decades. She served on the advisory board of the Green Street Arts Center; both she and her husband, Biff, are mentor-volunteers. Ms. Shaw has participated in numerous community organizations, including the Middletown Foundation for the Arts and the Middlesex United Way, which she served as president and campaign co-chair (with her husband) and currently as a member of the Community Impact Council. She also devotes her time to the Friends of the President Committee at Skidmore College.
Ralph "Biff" Shaw received his M.B.A. from the University of Hartford after graduating from Wesleyan. Following his service in the U.S. Army Counter Intelligence Corps from 1952–1954, he joined the Shaw Belting Company in Middletown, where he became president in 1963. He remained in the community to serve as president and CEO of the City Savings Bank in 1977. After a merger, he became president and CEO of Farmers & Mechanics Bank from 1983–1992 and proceeded to become Community Liaison for Middlesex Health System, Inc., until 2003.
At Wesleyan, Mr. Shaw was president of his fraternity and captain of the track team. He has chaired his Class Reunion activities since graduation. He served on the Alumni Council for 12 years, was chair of the National Alumni Fund for two years, and was area chair for the 15th Decade Fund.
Mr. Shaw has devoted many years to community service. At Middlesex Hospital, he has served as director, chair of the board, and vice chair. For the Middlesex United Way, he has been director, president, treasurer, and campaign co-chair. He also was a founder of Middlesex County Community Foundation and has been director, chair, and secretary. He has had numerous civic activities that range from school building committees to local economic development to oversight of inland wetlands, including service for eight years as chair of the Middletown Planning and Zoning Commission.